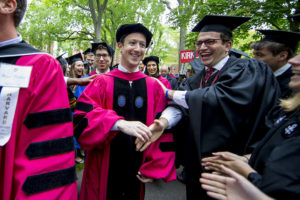 Congratulations to Mark Zuckerberg on receiving an honorary degree from Harvard University today recognizing his unparalleled contribution to technology and the world! With almost 2 billion users, Mark has probably gone beyond what he initially thought when he embarked on an idea of using the internet to connect people, not just computers. I was particularly struck with his graduation speech in a video feed tweeted by CBS where Mark said, "Ideas don't come out fully formed..they only become clear when you work on them…you just have to get started".
"Anyone working on a big vision is going to get called 'crazy' even if you end up right," Zuckerberg says at Harvard https://t.co/B7NKuUMEnd pic.twitter.com/5BoI0CV5Uz

— CBS News (@CBSNews) May 25, 2017
Why am I talking about Mark Zuckerberg's Graduation on this blog?
The primary reason is his words  are powerful and necessary for innovation specially in Digital Transformation which makes it relevant for all visitors to my blog. In Digital Transformation and Internet of Things (IoT), his advice to just get started and not worry about failure would go a long way as there are unknowns in these emerging areas where Return on Investment (ROI) metrics are still being developed or are unproven in many projects. As per Cisco at their IoT World Forum 2017, almost 60% of IoT projects fail. There are several reasons for that including lack of expertise, integration capability etc. however as discussed in my blog post from yesterday, enterprises investing in IoT should be willing to accept failure just like it happened in early stages of cloud computing..
Agile and Minimum Viable Product (MVP)
Although Mark Zuckerberg was directly addressing students in his speech, his message was equally applicable to professional and Digital Product Managers. In fact, he just made a strong case for believing and implementing agile thinking, product planning and execution of MVP of new product ideas. MVP is about getting started with bare minimum capabilities that are still delivering value to customers and can grow incrementally along with customer adoption. The beauty of agile is customers are constantly trying your MVP release and giving you feedback so you can tune the product to their satisfaction over time. This methodology is very important in Digital Transformation projects because enterprises are still struggling with how customer value can be delivered. Instead of getting to a perfect state with all answers, product organizations should adopt the 'just get started' model and make sure the ideas conceptualized and designed in their conference rooms actually get foothold with real customers.
Vision and Strategy are Still Important
By no means, the idea to go fast or get started should be confused with 'it's ok to not have vision or strategy'. At Dihuni, we believe that for ideas to go big, you definitely need to have a vision and often that comes after a few initial trials of your fresh ideas. In fact, Mark Zuckerberg started Facebook for just connecting people within Harvard University but always believed that someone else would connect people around the world. Mark started small but as he said in the speech from the beginning he believed that 'all people wanted to connect". He continued building the software and found success within Harvard University, and then outside in other universities and along the way developed a strong vision and belief to the extent that he dropped out of school to pursue his dream. What he is saying is in order to accomplish that vision, you do not need to figure out everything upfront. Mark kept innovating in small chunks, adding incremental features to Facebook and kept moving closer to his vision.
At Dihuni, we believe in 'Good Enough' Research and Agile Executable Strategy for Digital Transformation in order to move fast but with an eye on the destination. Mark's commencement speech definitely articulates our approach.
We would love to hear from you about how you approach innovation and best practices as well as challenges in Digital Transformation. Please e-mail us at digital@dihuni.com . You can also call us at the number on our Contact Us page.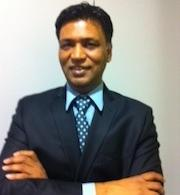 Pranay Prakash,
Chief Executive Officer, Dihuni