I am extremely pleased to announce the availability of a new line of AMD EPYC servers from Supermicro. These servers are available from Dihuni immediately.  The servers are targeted to help you with your Digital Transformation applications : you can use them in your Big Data, Internet of Things (IoT), In-Memory Analytics, Machine Learning, Artificial Intelligence (AI) and also for your general Data Center Virtualization & Cloud Infrastructure Applications.  With customized configurations, the servers can perform well as Web Server, Firewall, DNS, Security Appliances, E-Mail Server etc. As Scott Aylor mentioned in a recent press release :
"The new AMD EPYC processors were designed to deliver optimized performance per watt, and to address the complex data center and cloud computing challenges customers face today," said Scott Aylor, corporate vice president, enterprise solutions, AMD. "With Supermicro's strong suite of server solutions shipping with new AMD EPYC processors, customers can deploy cost-optimized solutions tailored for their specific applications and take advantage of the combination of more cores, more memory bandwidth, and more I/O that EPYC delivers."
I remember when AMD had released the Opteron processor in 2005 and created a much needed change in the computing industry by offering the very first multi-core CPU.  At that time dual-core was considered leading edge and doubled the performance for software applications that were able to take advantage of the new architecture. Great Price/Performance in products from leading partners such as Supermicro helped AMD make a mark in the server market. Software companies also wrote applications to take advantage of NUMA memory architecture which was implemented with AMD Opteron. With the release of AMD's EPYC processors in 2017, once again AMD has created buzz in the market with some notable technical capabilities with the new architecture. In the video below, AMD executives do an awesome job of explaining 'The Power of EPYC' processor.
Supermicro's new AMD servers are engineered to unleash the full performance and rich feature sets on the new AMD EPYC™ 7000 Series processor family with more cores, more memory, more I/O, and more security. AMD EPYC powers your application with 32 cores, 64 threads, 8 memory channels with up to 2 TB of memory per socket, and 128 PCIe-3 lanes coupled with the industry's first hardware-embedded x86 server security solution. In Supermicro's Press Announcement of the new products, Don Clegg states:
Supermicro's product line is unrivaled in the industry with the strongest optimized motherboard and server configurations for Data Centers, HPC and Cloud Computing," said Don Clegg, Vice President of Marketing and Business Development at Supermicro. "Boosting performance per watt and per dollar, our broad selection of AMD EPYC-based solutions provides customers with a new range of powerful and energy efficient server options that can lower their overall TCO."
So Which Products are Available from Dihuni?
While products are being added to this line on a continuous basis, following servers are available and shipping now. We are currently shipping the 1023US-TR4, 1123US-TR4, 2023US-TR4, 4023S-TRT 1U, 2U and 4U/Tower systems Please visit the product pages and contact us for more information.
Supermicro 2-Socket AMD EPYC Servers -Shop Online at our Easy to Use E-Commerce Store
We expect the full line of Supermicro servers supporting AMD EPYC will radically lower data center TCO through an optimized balance of compute, memory, I/O, and storage resources. We would love to hear from you about how you would like to use the new EPYC architecture and Supermicro servers in this new Digital World. Please visit our server pages or e-mail us at digital@dihuni.com .You can also call us at the number on our Contact Us page.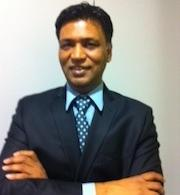 Pranay Prakash,
Chief Executive Officer, Dihuni