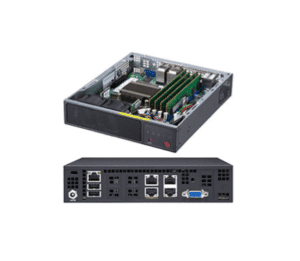 We are extremely pleased to announce that Dihuni has received multiple orders for the recently released Intel Atom C3000 based appliances. The orders started rolling in the first week of general availability announcement itself indicating pent-up demand for the Atom C3000 based systems. Customers who have ordered and those who have in pipeline are implementing use cases for remote VPN applications where larger rackmount systems are not useful and are more expensive than embedded compact systems in set-top box or mini 1U form-factor. The new Atom C3000 servers are specially suitable due to the high performance delivered by these systems over previous Atom generations.
Customers are also using these servers as virtualization hosts for software development and workstation use cases due to the quiet and compact nature of the systems. We have also learnt about Firewall applications to be installed on these brand new Atom servers.
The new products designed and developed by Supermicro are available in multiple form-factors : from box design to mini-tower to mini/compact 1U rackmountable form-factor supporting quiet designs and are available with C3338, C3558, C3758 and C3850 processors as below :
5029A-2TN4

– mini-tower server with 9-watt Atom C3338

E200-9A

– 1U Box virtualization server with 16-watt Atom C3558

5019A-FTN4

– compact 1U network security appliance with Atom C3758

E300-9A

– 1U Box network security appliance with 25-watt Atom C3858

5019A-12TN4

– compact 1U network security/server appliance with Atom C3850
Besides barebone systems (chassis, power supply, motherboard and CPU), our Dihuni OptiReady Embedded Best Seller 'Optimized and Ready' configurations for the above models offer one-touch easy-buy options for fully-configured, assembled and tested systems that ship directly from the manufacturer.
For the new Atom C3000 series, below are the Dihuni OptiReady pre-configured servers available now :
For a complete line of Intel Atom based servers and IoT gateways, please visit our store. We will continue to add new embedded products for Digital applications. These servers can be purchased directly online or if you need help, you can e-mail us at digital@dihuni.com. You can also call us at the number on our Contact Us page.