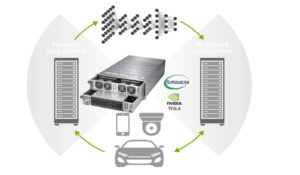 We are pleased to announce the immediate availability of new Dihuni OptiReady (Optimized and 'Ready to Buy and Deploy') GPU Servers featuring the recently released NVIDIA Tesla V100 32GB GPU. Initial offerings are based on the Supermicro SYS-4029GP-TVRT server platform and are configured to deliver extreme performance needed for today's Digital Transformation applications.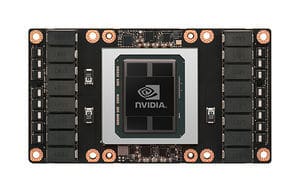 As per NVIDIA, the Tesla V100 is the world's most advanced data center GPU ever built to accelerate AI, HPC, and graphics. Powered by NVIDIA Volta, the latest GPU architecture, Tesla V100 offers the performance of up to 100 CPUs in a single GPU—enabling data scientists, researchers, and engineers to tackle challenges that were once thought impossible. The Tesla V100 was available with 16GB memory until last week's announcement at NVIDIA's 2018 GPU Technology Conference (#GTC18). With 32GB of memory, Tesla V100 GPUs can now help data scientists train deeper and larger deep learning models that are more accurate than ever. They can also improve the performance of memory-constrained HPC applications by up to 50 percent compared with the previous 16GB version.
"As companies embark on Digital Transformation projects involving Deep Learning and Artificial Intelligence (AI) , they need right sized systems to perform complex functions and analytics leading to meaningful conclusions," said Pranay Prakash, Dihuni's chief executive officer. "Whether you are designing autonomous cars, researching the universe or implementing IoT use cases in smart cities, Dihuni's OptiReady Supermicro 4029GP-TVRT and NVIDIA Tesla V100 32GB based servers provide you unparalleled performance for training AI models and delivering superior inference."
Featuring the world's most advanced GPU, these new servers are particularly suited for maximum acceleration of highly parallel applications like Artificial Intelligence (AI), Deep Learning, Machine Learning, Autonomous Machines, Self-Driving Cars,Big Data Analytics, Internet of Things (IoT), Smart Cities, Health Care, Oil & Gas Research,Computer Aided Design (CAD), Virtual/Augmented Reality, HPC,  Virtualization, Database Processing, and Compute Intensive Cloud & Enterprise Applications.
The Supermicro SuperServer SYS-4029GP-TVRT  supports eight NVIDIA Tesla V100 32GB SXM2 GPU accelerators with maximum GPU-to-GPU bandwidth for cluster and hyper-scale applications. Incorporating the latest NVIDIA NVLink technology with over five times the bandwidth of PCI-E 3.0, this system features independent GPU and CPU thermal zones to ensure uncompromised performance and stability under the most demanding workloads. Comparable to the NVIDIA DGX-2/DGX-1 system, the Supermicro SYS-4029GP-TVRT offers high flexibility in configuration and extremely attractive price/performance. The servers also feature new Intel® Xeon® Scalable Processors (Skylake) for top CPU performance to complement V100 GPUs in one extremely high performing system.
Available immediately are 2 Dihuni OptiReady server models : an eight V100 32GB GPU and a four V100 32GB GPU system ready for quick purchase and deployment. These servers can be bought in the exact configuration above or can be customized as per your application needs. Please contact us at digital@dihuni.com for more information.
About Dihuni
Dihuni is a leading provider of Digital Transformation, Internet of Things (IoT) and Deep Learning Solutions. The internet has changed everything – from software applications to compute, storage and networking hardware. Dihuni helps businesses in achieving desired digital outcomes and ensures customers are enabled with the right hardware, software and services to make that happen. There is huge complexity in implementing a successful solution regardless of whether you are a software developer wanting a fast developer machine or if you are involved in developing an efficient on-premise and cloud back-end infrastructure for your IT or Internet of Things (IoT) applications or setting up the right systems for data, analytics, Deep/Machine Learning, Artificial Intelligence (AI) and Digital Applications.