Dihuni has collaborated with NEC, a leading global technology provider for advanced IT, communications, networking and biometrics solutions, to provide a powerful Digital Transformation solution that simplifies Deep Learning, High Performance Computing (HPC) and Internet of Things (IoT) applications by offering an on-demand solution for dynamically adding compute, graphics and storage resources. 
In the new era of Artificial Intelligence (AI) and Smart Connected Machines, Deep Learning and HPC are shaping our world like no other technological advances in computing history. Accuracy and responsiveness are key to developing meaningful insights and new business models using Big Data generated from a number of sources including machine data, enterprise data, research/experimental data etc. However Big Data analytics also means resource hungry applications which can make the required IT infrastructure extremely expensive. In a conventional infrastructure system, if there is a performance bottleneck for a single item only – CPU, GPU processing, storage, or networks; there is no way to boost the performance of that item alone; instead, the entire system has to be upgraded. Not only is this an uneconomical way of improving performance, it also results in wasteful power consumption by running resources that are not used.
The new collaborative solution called ExpEther enables IT and IoT infrastructure expansion by scaling only the resources that are required by the software application. This is enabled through ExpEther's PCI Express over Ethernet technology that allows extension of the conventional PCI Express interface found in most PCs and servers over standard Ethernet to distances of 2 kilometers or more. Whether you are running an AI or Deep Learning application or developing a low latency database for your Digital Transformation application, ExpEther 40G technology delivers a compelling solution for real-time Big Data processing and other workload acceleration by enabling the connection of GPU, NVMe SSD, or FPGA-based accelerators via an Ethernet connection.
"NEC is pleased to partner with Dihuni to help customers deal with the cost and complexity involved with scaling GPU, FPGA and NVMe systems for high performance Big Data applications," said Takeshi Miyako, Senior Manager, Global Platform Division, NEC Corporation. "The combination of Dihuni's consulting and product expertise in IoT, AI and Deep Learning with NEC's ExpEther technology, creates a great opportunity to help customers with their Digital Transformation journey."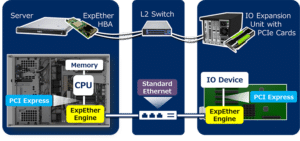 ExpEther is a technology that can extend the PCI Express bus beyond the confines of a computer chassis via Ethernet without any modification of existing hardware and software. Computer resources can be added to a standard Ethernet fabric as if adding such resources directly into the chassis to provide scale-up flexibility. ExpEther can build a new type of computing environment using open standard hardware and software without localized physical constraints and is cost effective with the use of standard Ethernet equipment. As the ExpEther keeps the native PCI Express connectivity, the PCI Express devices can also be operated as a single system, despite being distributed in different locations connected by Ethernet.
"We believe that the ExpEther technology can bring innovative and differentiating capabilities to standard x86 servers and storage systems used for Deep Learning, AI and IoT deployments," said Pranay Prakash, Chief Executive Officer, Dihuni. "Often the effort and cost of adding expensive and complex servers and storage for incremental resource needs are prohibitive due to constrained budgets. NEC's ExpEther offers a unique scalability solution that enables simple and cost-effective selective resource scaling that can replace the need for costly systems and thereby ensure projects run smoothly within budget. We are very excited about this partnership."
ExpEther 40G provides customers with the following advantages:
Since all connections with the computing resources can be dynamically reconfigured, ExpEther40G technology optimizes the utilization rate.
Original software assets can be used without changing the device drivers, even when all resources are connected via Ethernet.
The service platform enables the scalability needed to process Internet of Things (IoT) solutions and big data projects in real time, especially in the area of high-performance servers. 
Japan's Osaka University is successfully using a Resource Pool System consisting of 64 servers & 70 IO devices connected by ExpEther. Details may be found here: http://www.expether.org/products.html
Performance Comparable to GPU Populated Servers
ExpEther can achieve almost the same performance with GPU as obtained when GPU is connected locally with a server. In Deep Learning usage, the data exchange between host and GPU is very small and most processing is done at GPU core, so there is negligible performance impact due to PCIe extension.
Below are performance results with NVIDIA Tesla P100 GPU running CUDA n-body benchmark.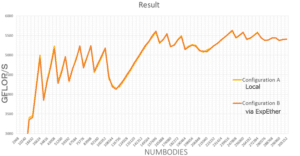 With the NVIDIA Tesla K80 GPU, we also see similar results.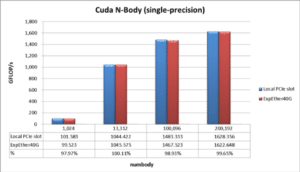 ExpEther performance with NVMe SSD
ExpEther can achieve the same IOPS performance as the local SSD by increasing the IO Depth parameter to overcome the Ethernet latency. Below are ExpEther IOPS performance results demonstrated with Intel DC P3700 SSD.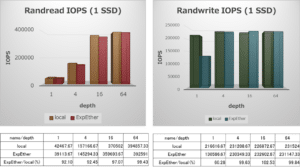 The ExpEther is available immediately from Dihuni. It comes in a 2-slot and 4-slot configuration and can also be connected to multiple servers using ExpEther Add-On cards. Please visit the product page or contact us for information.
About NEC Corporation
NEC Corporation is a leader in the integration of IT and network technologies that benefit businesses and people around the world. By providing a combination of products and solutions that cross utilize the company's experience and global resources, NEC's advanced technologies meet the complex and ever-changing needs of its customers. NEC brings more than 100 years of expertise in technological innovation to empower people, businesses and society.  For more information, visit NEC at https://www.nec.com.
About Dihuni
Dihuni is a leading provider of Digital Transformation, Internet of Things (IoT) and Deep Learning Solutions. The internet has changed everything – from software applications to compute, storage and networking hardware. Dihuni helps businesses in achieving desired digital outcomes and ensures customers are enabled with the right hardware, software and services to make that happen. There is huge complexity in implementing a successful solution regardless of whether you are a software developer wanting a fast developer machine or if you are involved in developing an efficient on-premise and cloud back-end infrastructure for your IT or Internet of Things (IoT) applications or setting up the right systems for data, analytics, Deep/Machine Learning, Artificial Intelligence (AI) and Digital Applications.