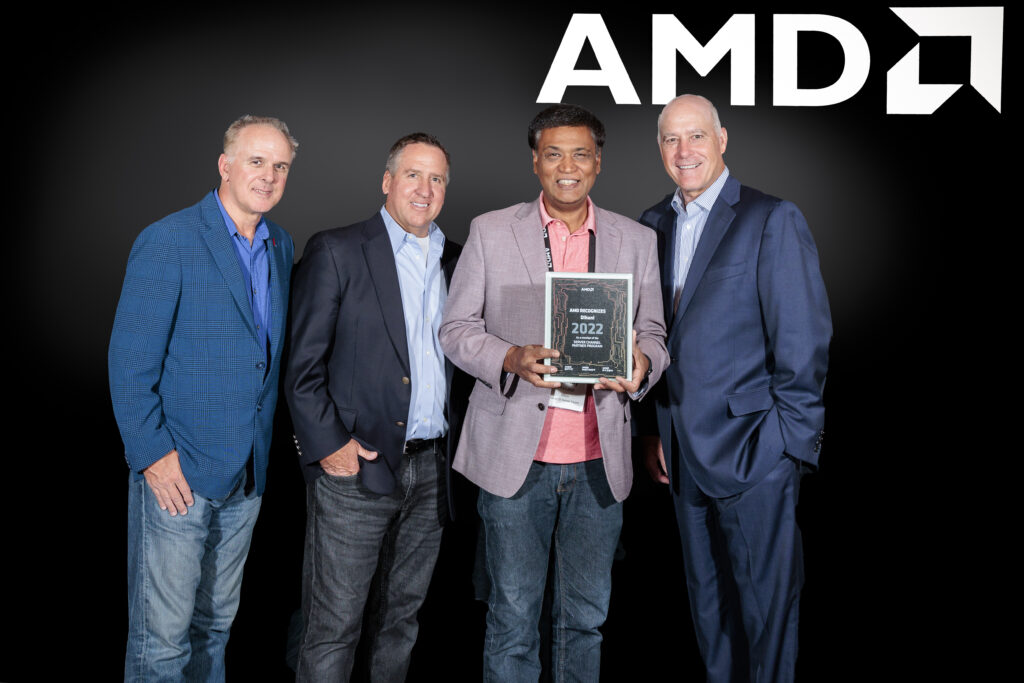 At a recent AMD partner event, Dihuni was recognized as a Server Systems Intrgrator Partner. We are proud to be a recepient of this award and thank the whole AMD server sales, product and marketing teams for this honor.
As an early adopter of the AMD EPYC processors, we were initially able to see pockets of success in 2017 and 2018 with EPYC gaining ground and becoming mainstream in the following years with increasing demand due to single socket price/performance, energy efficiency and adoption by all major ODMs and OEMs. Today AMD EPYC is a critical component in our AI, HPC and Data Center solutions. Some examples of the solutions we're shipping with AMD EPYC: Deep Learning GPU Servers featuring AMD EPYC CPUs and NVIDIA Tesla Data Center GPUs, All Flash NVMe EPYC Systems and Servers for mainstream enterprise applications.
Above are just examples. Our AMD EPYC line is broad and comprises of completely customized servers: from Dihuni OptiReady branded systems to standard servers from OEMs such as Dell, HPE, Lenovo, Supermicro and ODMs such as Tyan, Gigabyte, Asus etc. Additionally our AMD partnership has broadened beyond just EPYC CPU based server systems to include Ryzen CPU based desktops, Xilinx FPGA Accelerators, AMD Radeon Instinct GPUs and in future we will add products such as DPUs from Pensando etc.
Below are links to check out our current AMD offerings:
https://www.dihuni.com/brand/amd/
https://www.dihuni.com/product-category/servers/
https://www.dihuni.com/brand/xilinx/
or use our real time instant search https://www.dihuni.com/?s=AMD to find your AMD products of interest.
We are excited to continue our growth with AMD! Watch this space as we introduce new products as AMD executes on its solid roadmap.