Accelerate Your Time to Market Leveraging Dell OEM Expertise
Dell and Dihuni have partnered to help you build innovative solutions every day without worrying about IT infrastructure and systems software. Dihuni team brings over 20 years of experience in defining, developing and deploying OEM solutions for security software appliances, DNS appliances, and Internet of Things (IoT) edge and cloud systems. And since 1999, Dell Global OEM Solutions has been working with companies around the world just like you, in over 40 industry verticals, to help them go to market more efficiently by building Dell's hardware, software and services into their own solutions. And with support in over 180 countries, Dell OEM has the breadth to help you securely manage and support your solutions around the world. Together we offer you a one stop shop for all your customized OEM solutions.
By managing the technology, design, manufacturing, distribution and support for your solution, we give you more time to focus on your customers and bring your optimal solution to market – a solution backed by Dell's Tier 1 quality and global service. In today's highly connected world your solutions need to keep up. And you can maintain your competitive advantage by leveraging Dell OEM's cloud, mobility, big data, security and Internet of Things experience to stay on the cutting edge combined with Dihuni's consulting, customer service and product management and delivery services.
Below are some of the product categories that can be customized for your OEM solutions :
Dell OEM Server Appliances
At Dihuni, we understand the unique requirements of your digital software. Whether you are running dedicated software to build a purpose built appliance or whether you are trying to host a bunch of virtual machines on a server to deliver end user value, we can take the headache out for you so you focus on your core business of developing software. If you are an Independent Software Vendor (ISV) developing applications that support digital transformation, this program is designed for you. We help ISVs that are involved in big data applications, Internet of Things (IoT), data center and security applications such as intrusion prevention, firewall, DNS and other infrastructure management applications.
OEM Branding & Customization Services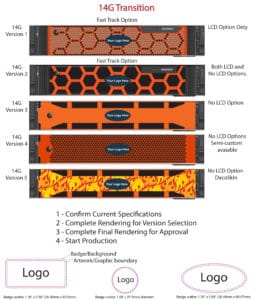 The EMC Dell OEM Appliance Branding Program allows you to select from an array of branding customization options, including OEM Ready (unbranded), OEM Express (software-loaded), OEM Plus (semi-custom) and OEM Custom (full custom). Our OEM Identity Module Software Branding Program allows you to modify software, from our Express Tier (basic branding customization), Professional Tier (BIOS settings and LCD Display text modification), and Premium Tier (deeper customization of the system behavior).
Right Sized Hardware, Integration & Global Logistics
Delivering performance for your digital software requires you to have the right hardware configuration. Dihuni helps you standardize and optimize on server, storage and network configurations. You can select latest Dell PowerEdge 14th Generation Servers or other products from Dell's long life cycle roadmap. Instead of developing our own assembly line , Dihuni leverages the automation and global capabilities of Dell. This allows us to focus on what's most important to you – deliver a high quality appliance designed, configured, tested and delivered on time. We can build your custom product and deliver the most efficient systems, servers and storage globally for your software applications. Please contact us with your requirements.
You can send an e-mail to oem@dihuni.com or use our contact page. We will contact you spontaneously and help you develop your OEM product.
Dell OEM for Internet of Things (IoT) & Embedded Applications

As billions of edge devices are getting connected to the internet, Dell and Dihuni want to help you with your unique Internet of Things (IoT) and embedded requirements. We offer a suite of embedded products that can be customized for for Network Appliance, Security Appliance, Video Signage Display Player, Internet of Things (IoT) applications where data aggregation and local analytics are needed. You can use these embedded units as general purpose servers with Windows, Linux or other Operating System or load your own industry specific software application on the device to make them cloud connected systems for IoT applications. The data collected from these edge devices can be sent to the cloud for Analytics, Machine Learning (ML) or Artificial Intelligence (AI) insights and applications.  Our OEM program offers wide range of customization services : from bezel to BIOS to packaging, your Edge Gateways can look and feel as if they were designed and built by you. Please contact us about oEM services including customized OS, memory and storage options. Below are some of the Dell embedded offerings that can be part of your product line.
Dell Edge IoT Gateway and Embedded Servers : 3000 Series
An Edge Gateway, with powerful dual-core Intel® Atom™ processors, connects varied wired and wireless devices and systems, aggregates and analyzes the input, and sends it on. Because the Gateway sits close to your devices and sensors, it sends only meaningful data to the cloud or control center, saving you expensive bandwidth.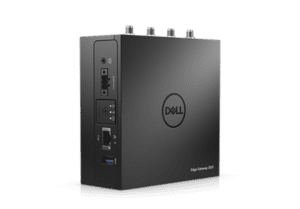 Dell Edge IoT Gateway and Embedded Servers : 5000/5100 Series
The Edge Gateway 5000 Series for the Internet of Things (IoT) offers cost-effective security and manageability tools for operations professionals. The Dell Edge Gateway Model 5100 is our highly effective industrial IoT device, designed to provide powerful IoT solutions even in extreme conditions.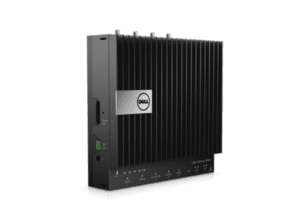 Dell Edge Gateway 5000 – Configuration 1
Dell Edge Gateway 5000 – Configuration 2
Dell Edge Gateway 5100 – Configuration 1
Dell Edge Gateway 5100 – Configuration 2
Please visit our product pages to learn more. You can send an e-mail to oem@dihuni.com /iot@dihuni.com or use our contact page. We will contact you spontaneously and help you with your OEM offering.