Dihuni Supermicro Deep Learning GPU Servers: OptiReady Complete Systems
Dihuni Supermicro Deep Learning GPU Servers: OptiReady Complete Systems
Dihuni and Supermicro have pre-configured commonly deployed OptiReady Deep Learning GPU optimized servers that are used for Deep Learning, Machine Learning and HPC, Medical Imaging, Oil and Gas simulation, Computational Finance, Science and Engineering, and Media/Entertainment.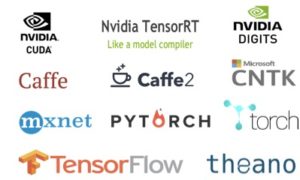 Each of the servers below can be customized and loaded with operating system and Dihuni's Deep Learning software stack including Tensorflow, Caffe etc. Although these servers are pre-configured and popular, you can request customization of CPU, memory, operating system etc. Below are some of the world's most advanced servers featuring 2, 4, 8 and 16 Tesla V100 NVLink GPUs, Tesla T4 GPUs and also GeForce 2080 Ti servers. Fortune 500 and other commercial customers, educational and government customers trust their Deep Learning solutions to Dihuni. Please contact us with your requirements and we will help you with a Deep Learning solution specific to your needs.
For Supermicro Deep Learning GPU Barebone Systems, please visit here.
Showing 1–12 of 29 results
Showing 1–12 of 29 results