NVIDIA Tesla V100 Deep Learning Servers

NVIDIA Tesla V100 Servers – Delivering Breakthrough Deep Learning Performance with World's Most Advanced GPU
Get blazing performance for your Deep Learning applications with your NVIDIA Tesla V100 GPU based server. NVIDIA V100 Tensor Core is the most advanced data center GPU ever built to accelerate AI, high performance computing (HPC), data science and graphics. It's powered by NVIDIA Volta architecture, comes in 16 and 32GB configurations, and offers the performance of up to 32 CPUs in a single GPU. Data scientists, researchers, and engineers can now spend less time optimizing memory usage and more time designing the next AI breakthrough.
Our V100 servers are fully customizable and built to order directly by manufacturers including Supermicro, Tyan, HPE, Dell etc. They feature:
Most flexible and high performing Tesla V100 Deep Learning Server NVIDIA, Intel or AMD hardware platform
Multi-GPU optimized thermal designs for highest performance and reliability
Advanced GPU interconnect options for best efficiency and lowest latency
Leading GPU architectures including NVIDIA® HGX-1 (DGX-1) HGX-2 (DGX-2) platform with NVLink™ and NVSwitch™
NVIDIA Tesla V100 16GB and Tesla 32GB PCI-e, NVLink SXM2 and NVLink SXM3 GPUs
Designed for AI / Deep Learning, Virtual Desktop, Scientific Research, 3D Rendering Farm, HPC etc
Option to install Dihuni's AI Software Stack including NVIDIA Cuda Toolkit, NVIDIA DIGITS, NVIDIA TensorRT and NVCaffe, Caffe2, Microsoft Cognitive Toolkit (CNTK), MXNet, PyTorch, TensorFlow, Theano, and Torch Deep Learning Framework Software.
NVIDIA NGC Pre-Loaded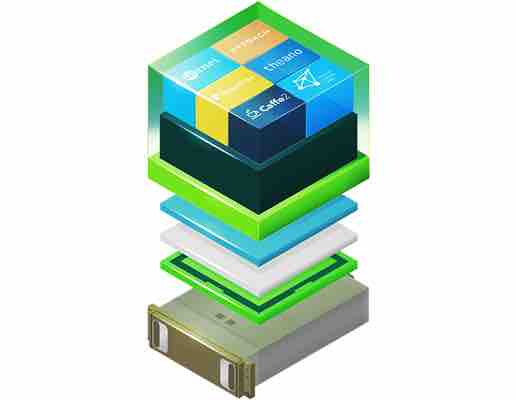 Our Deep Learning servers are available with NVIDIA NGC containers that can be preloaded. NGC empowers researchers, data scientists, and developers with performance-engineered containers featuring AI software like TensorFlow, Keras, PyTorch, MXNet, NVIDIA TensorRT™, RAPIDS and more. These pre-integrated containers feature NVIDIA AI stack including NVIDIA® CUDA® Toolkit, NVIDIA deep learning libraries which are easy to upgrade using Docker commands.
Select below, Buy online or contact us for customization.
Educational and Inception discounts available with complete servers configured with Tesla V100 32GB GPUs.
Showing 1–12 of 67 results
Showing 1–12 of 67 results