Single Socket AMD EPYC 7002-Series Based Servers
Single Socket AMD EPYC 7002-Series Based Servers : High Power, Performance and Security
AMD EPYC™ 7002 Series Processor (aka 2nd Gen AMD EPYC™ Processor) based on the new Zen 2 CPU architecture are the first x86 server processors featuring 7nm hybrid-multi-die design and PCIe® Gen4 with up to 64 high performance cores, higher memory bandwidth and high-bandwidth I/O. By leveraging new AMD EPYC™ 7002 Series Processors, our 2nd gen AMD EPYC Processor based-platforms are designed to address the most demanding workloads of datacenter customers and help customers turbocharge their application performance, transform their data center operations, and secure their critical data. the 2nd Gen AMD EPYC™ processors are expected to deliver up to two times the performancei with double the core count compared to 1st Gen AMD EPYC™ processor-based systems.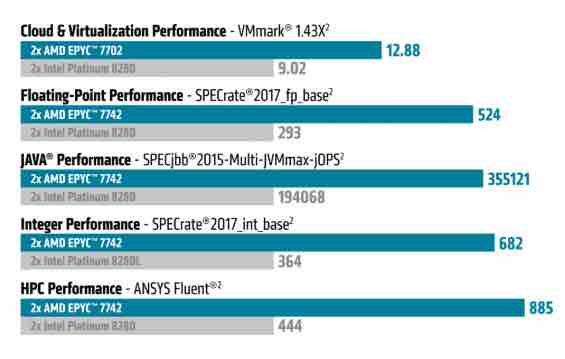 With these new AMD EPYC™ 7002 series servers, you can also expect improved virtualization performance, GPU accelerator performance as well as up to four times the peak FLOPS per socket. Below are single socket AMD EPYC™ 7002 Series based servers from multiple server vendors such as Supermicro, TYAN etc. All servers can be customized to your exact specification.
Select below, Buy online or contact us for customization.