The AMD EPYC 7401P server (Part #PS740PBEVHCAF) processor provides cost-effective breakthrough processing power balanced with the industry-leading memory and I/O capacity needed to substantially eliminate performance bottlenecks. With 24 cores, EPYC 7401P enables you to meet your workload needs from virtualized infrastructure to large-scale big-data and analytics platforms and legacy line-of-business applications. With EPYC you can leverage industry-leading I/O bandwidth that matches the capability of the CPU cores to move data to and from the network while supporting I/O-intensive workloads. EPYC, with a balanced set of resources, offers you an unprecedented opportunity to rightsize your datacenter infrastructure for enhanced performance and cost efficiency. This CPU is ideal for your Digital Transformation Applications : Web Server, Firewall, DNS, Security Appliances, Network Infrastructure, Front-End enterprise, Minimal-Downtime Cluster Server, E-mail Servers, Big Data, Internet of Things (IoT), In-Memory Analytics, Machine Learning, Artificial Intelligence (AI) and general Data Center Virtualization & Cloud Infrastructure Applications.
Key Features
# of CPU Cores: 24
# of Threads: 48
Socket Count : 1P
Max Boost Clock: 3GHz
Base Clock: 2GHz
Default TDP / TDP: 155W/170W
Optimized for GPU/FPGA Accelerated, Deep Learning, AI, Machine Learning, Big Data Analytics, Storage, HyperScale Applications
OEM/Tray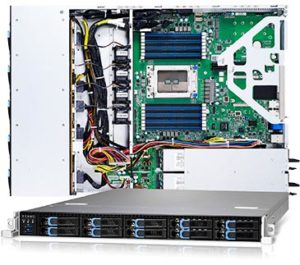 Check out industry's broadest range of AMD EPYC Server Barebones and Dihuni OptiReady complete systems here.
We accept all major credit cards e.g. MasterCard, Visa, American Express, Discover etc. Please review our Terms and Conditions and Return, Refund and Repair policy prior to purchase.