Lenovo ThinkSystem SE350 Edge Server
The ThinkSystem SE530 is a high performance Edge server ideal and customizable for Network Appliance, Security Appliance, Video Signage Display Player, Internet of Things (IoT) applications where data aggregation and local analytics is needed. You can use this embedded unit as a general purpose server with Windows, Linux or other Operating System or load your own industry specific software application on the device to make it a cloud connected system for IoT applications. The data collected from these edge devices can be sent to the cloud for Analytics, Machine Learning (ML) or Artificial Intelligence (AI) insights and applications.
Designed and built with the unique requirements for Edge servers in mind, it is versatile enough to stretch the limitations of server locations, providing a variety of connectivity and security options and easily managed with Lenovo XClarity Controller. The ThinkSystem SE350 is a rugged compact-sized Edge solution with a focus on smart connectivity, business security, and manageability for the harsh environment.
Key Features
Manufacturer Part # 7Z46A002NA

Intel® Xeon® D-2123IT Processor, 4 Cores, 8 Threads, 2.2 GHz (Max Turbo 3.0GHz)

16GB TruDDR4 2666MHz memory
480GB SATA M.2 SSD
Broad-wired connectivity 10G SFP+ LOM package): 2x 10GbE SFP+, 2x 1GbE RJ45 (support 10/100 Mbps), 2x dedicated ports for remote management (redundant connections or daisy-chain capable).  (For wireless connectivity, please select model 7Z46A001NA from option below)
Rugged, handles 0-55°C, dust and vibration
Small and flexible
Low-touch deployment
Highly secure
1 Year onsite limited warranty with 9×5 next business day (NBD)
For use in USA only
Introducing the new Intel® Xeon® D-2100 Processor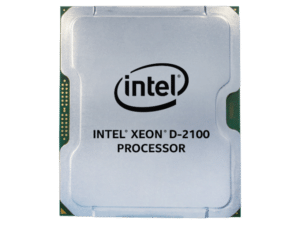 The new Intel® Xeon® D-2100 processor delivers Intel's most transformative and ground-breaking data center processor architecture in a form factor optimized for flexible, scalable, high-density network, storage, and cloud edge solutions. It brings the architectural innovations of the Intel® Xeon® Scalable platform to a system-on-a-chip (SoC) processor for lower-power, high-density solutions, integrating essential network, security, and acceleration capabilities. A software-programmable platform featuring robust virtualization support, with low latency, high-bandwidth capabilities through a flexible design, for a variety of solution and service deployments in space and power constrained environments. Design innovation delivers seamless solution scalability from the data center to the network edge.
Designed and manufactured with Intel® Mesh Architecture and using Intel's industry-leading 14nm silicon process technology, the Intel® Xeon® D-2100 processor is the first offering of a line of processors that will address a broad range of lower-power, high-density edge computing needs.
With a range of 4 to 18 cores, up-to 512 GB of addressable memory, this system-on-a-chip (SoC) has an integrated Platform Controller Hub (PCH), integrated high-speed I/O, up-to four integrated 10 Gigabit Intel® Ethernet ports, and a thermal design point (TDP) of 60 watts to 110 watts. It can run the same instruction set as more robust Intel Xeon Scalable processors to provide software consistency and scale from the data center to the edge. It also provides advanced server-class capabilities, including:
New Intel® Advanced Vector Extensions 512 (Intel® AVX-512) delivers workload-optimized performance and throughput increases for advanced analytics, compute-intensive applications, cryptography, and data compression.
Enhanced Intel® QuickAssist Technology (Intel® QAT), available as an integrated option, delivers chipset-based hardware acceleration, up-to 100 Gbps, for growing cryptography, encryption, and decryption workloads for greater efficiency while delivering enhanced transport and protection across server, storage, and network infrastructure.
Built-In Hardware Virtualization using Intel® Virtualization Technology (Intel® VT) to enable dynamic provisioning of services as communication service providers extend network functions virtualization (NFV) to the network edge.
Intel x86 64-bit Software Support for scalable performance and broad application compatibility.
Enhanced Reliability, Availability, and Serviceability (RAS) features, including support for error-correcting code (ECC) memory and platform-level error management and resilience.
Intel® Platform Storage Extensions to enable smarter and more cost-effective storage solutions through integrated technologies that accelerate data movement, protect data, and simplify data management.
Fast Encryption and Decryption Intel® Advanced Encryption Standard New Instructions (Intel® AES-NI) accelerates data encryption and decryption for secure websites.

Technical Specifications
Form Factor
1U height, half width edge server; Height: 40mm, Width: 215mm, Depth: 376mm
Processor
1-socket Intel® Xeon® D-2100, up to 16 cores
Memory
Up to 256GB in 4x slots, using 64GB DIMMs; 2133/2400/2666MHz TruDDR4
Internal Storage Options

2x M.2 2280 SATA boot drives + 8x M.2 22110 NVMe data storage drives
2x M.2 2280 SATA boot drives + 4x M.2 22110 NVMe/SATA data storage drives
SED, high temperature, high capacity, and high endurance drive options
Optional encryption key deletion on tamper or theft detection

RAID Support
Software RAID available
Mounting Options

Single node mounting options for desktop, VESA, DIN, wall, or ceiling
Multi-node stackable bookend options
E1 Enclosure for two nodes side-by-side and 4x power supplies. Depth: 735mm, Height: 1U
E2 Short Depth Enclosure for two nodes sides by side + 4x power supplies: Depth: 440mm, Height: 2U
Locking bezels and dust filter options

Power

Dual-redundant external power supplies 100-240V AC
Single DC supply: -48VDC (-40VDC to -75VDC)

Network Interface (Wired)

2x10GbE (SFP+), 2x 10/100MB/1GbE, 2x 1GbE management
2x10GbE (SFP+), 4x switch 10/100MB/1GbE, 2x 1GbE management

Network Interfaces (Wireless)

Four wireless SMA connectors for LTE & Wi-Fi
Wi-Fi 64/128-bits encrypted WEP, WPA, WPA2, 802.11 a/b/g/n/ac
3G/4G Cellular LTE 3GPP Release 12 450Mbps DL/50Mbps UL
5G ready

Accelerators and PCIe Expansion

1x PCIe 3.0 x16 75W or 4x 22110 / 2280 M.2 PCIe
Support for 1x NVIDIA® T4 GPU for AI inference
Support for GPU, FGPA, ASIC accelerators
Support for operational technology networks
1x PCIe network card expansion

4x 1GbE RJ45 PCIe
2x 10GBASE-T PCIe
2x 10/25GbE SFP28 PCIe

I/O

Front: 1x VGA, 2x USB 3.0, 1x XClarity Controller management mini-USB
Rear: 1x RJ45 Console Serial, 2x USB 2.0
USB and Console ports can be disabled

Systems Management
Lenovo XClarity Administrator with mobile option
Environmental
Extended operating temperature of 0-55°C, up to 30G shock, 3G vibration, IEC 60068, MIL-STD-810G, optional dust filter
Security

ThinkShield Key Vault management with motion and intrusion tamper protection
Optional SED encrypted storage for boot and data drives
Lenovo Trusted Supplier Program, Secure boot, and Smart USB Protections, Lenovo Wi-Fi Security, Lenovo LTE Security
Optional Kensington keyed lock compatible chassis
Nationz TPM 2.0 for customers in China
Cable locking bezel

Operating Systems
Microsoft Windows Server, SLES, Ubuntu, RHEL, VMware vSAN, Scale Computing HC3. Visit lenovopress.com/osig for details.
Limited Warranty
1-year, 3-year warranty extendable to 5-year, next business day 9×5; optional service upgrades