Introducing the new Intel® Xeon® D-2100 Processor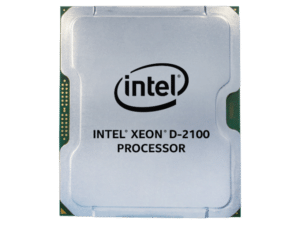 The new Intel® Xeon® D-2100 processor delivers Intel's most transformative and ground-breaking data center processor architecture in a form factor optimized for flexible, scalable, high-density network, storage, and cloud edge solutions. It brings the architectural innovations of the Intel® Xeon® Scalable platform to a system-on-a-chip (SoC) processor for lower-power, high-density solutions, integrating essential network, security, and acceleration capabilities. A software-programmable platform featuring robust virtualization support, with low latency, high-bandwidth capabilities through a flexible design, for a variety of solution and service deployments in space and power constrained environments. Design innovation delivers seamless solution scalability from the data center to the network edge.
Designed and manufactured with Intel® Mesh Architecture and using Intel's industry-leading 14nm silicon process technology, the Intel® Xeon® D-2100 processor is the first offering of a line of processors that will address a broad range of lower-power, high-density edge computing needs.
With a range of 4 to 18 cores, up-to 512 GB of addressable memory, this system-on-a-chip (SoC) has an integrated Platform Controller Hub (PCH), integrated high-speed I/O, up-to four integrated 10 Gigabit Intel® Ethernet ports, and a thermal design point (TDP) of 60 watts to 110 watts. It can run the same instruction set as more robust Intel Xeon Scalable processors to provide software consistency and scale from the data center to the edge. It also provides advanced server-class capabilities, including:
New Intel® Advanced Vector Extensions 512 (Intel® AVX-512) delivers workload-optimized performance and throughput increases for advanced analytics, compute-intensive applications, cryptography, and data compression.
Enhanced Intel® QuickAssist Technology (Intel® QAT), available as an integrated option, delivers chipset-based hardware acceleration, up-to 100 Gbps, for growing cryptography, encryption, and decryption workloads for greater efficiency while delivering enhanced transport and protection across server, storage, and network infrastructure.
Built-In Hardware Virtualization using Intel® Virtualization Technology (Intel® VT) to enable dynamic provisioning of services as communication service providers extend network functions virtualization (NFV) to the network edge.
Intel x86 64-bit Software Support for scalable performance and broad application compatibility.
Enhanced Reliability, Availability, and Serviceability (RAS) features, including support for error-correcting code (ECC) memory and platform-level error management and resilience.
Intel® Platform Storage Extensions to enable smarter and more cost-effective storage solutions through integrated technologies that accelerate data movement, protect data, and simplify data management.
Fast Encryption and Decryption Intel® Advanced Encryption Standard New Instructions (Intel® AES-NI) accelerates data encryption and decryption for secure websites.

Supermicro Embedded Systems Featuring Intel 
Xeon® D 

Processors


Intel® Xeon® processor D product family, network series of processors, provides additional advancements at the edge of the network. Supporting delivery of intelligence at the network edge, this product delivers the performance and advanced intelligence of Intel's server-class Xeon® processors in a system-on-a-chip (SOC) form factor, supporting deployments in dense, rugged environments outside of the data center. Network Series processors include up to four integrated Intel® Ethernet 10 GbE adapters and integrated Intel® QuickAssist™ Technology (Intel® QAT), enabling further reduction in the product footprint while also increasing the amount of securely processed and compressed data at the network edge. Infrastructure applications include midrange routers, network appliances, security appliances, wireless base stations, embedded midrange Internet of Things (IoT) devices, entry networking, midrange storage area network (SAN) and network attached storage (NAS) appliances, warm cloud storage, and more.
"As the 5G era continues to emerge and Edge computing becomes more prevalent, Supermicro is ready with the industry's best selection of embedded servers and motherboards to service a wide range of vertical markets including industrial automation, retail, medical, transportation, communication, and networking," said Charles Liang, President and CEO of Supermicro. "With the vast growth of data driven workloads across embedded applications, Supermicro remains committed to developing powerful, scalable yet agile IoT gateway and compact server, storage and networking solutions that deliver the best ecosystems for the Edge with ease of deployment and open scalability."  

Charles Liang, President and CEO of Supermicro
Server Systems Management
Supermicro Server Manager (SSM) provides capabilities to monitor the health of server components including memory, hard drives and RAID controllers. It enables the datacenter administrator to monitor and manage power usage across all Supermicro servers allowing users to maximize their CPU payload while mitigating the risk of tripped circuit. Firmware upgrades on Supermicro servers became easier now with a couple of clicks. Administrators can now mount an ISO image on multiple servers and reboot the servers with those images. The tool also provides pre-defined reports and many more features that will make managing Supermicro servers simpler. Download the SSM_brochure for more info or download Supermicro SuperDoctor® device monitoring and management software.
Technical Specifications
Product SKUs

MBD-X11SDV-16C+-TLN2F
Physical Stats

Form Factor

Dimensions

6.75″ x 6.75″ (17.15cm x 17.15cm)
Processor/Cache

CPU

Intel® Xeon® Processor D-2183IT

Cores / Cache
System Memory

Memory Capacity

Up to 256GB Registered ECC RDIMM, DDR4-2400MHz; Up to 512GB ECC LRDIMM, in 4 DIMM slots

Memory Type

2666/2400/2133MHz ECC DDR4 RDIMM, LRDIMM
(Operating speed up to 2400MHz)

DIMM Sizes

RDIMM: 4GB, 8GB, 16GB, 32GB, 64GB
LRDIMM: 16GB, 32GB, 64GB, 128GB

Memory Voltage

Error Detection

Corrects single-bit errors
Detects double-bit errors (using ECC memory)
On-Board Devices

Chipset

SATA

SoC controller for 8 SATA3 (6 Gbps) ports; RAID 0,1,5,10
4 SATA ports via OCuLink (or PCIE3.0 x4 for NVMe)

IPMI

Network Controllers

Dual LAN with 10GBase-T with Intel® X557

Graphics
Input / Output

LAN

2 RJ45 10GBase-T ports
1 RJ45 Dedicated IPMI LAN port

USB

2 USB 2.0 ports (2 headers),
2 USB 3.0 ports (2 rear)

Video Output

TPM
Expansion Slots

PCI-E

1 PCI-E 3.0 x8
1 PCI-E 3.0 x4 NVMe Internal Port via OCuLink
System BIOS

BIOS Type

BIOS Features

ACPI 6.1
SMBIOS 3.1
UEFI 2.6
PCI FW 3.2
Management

Software

Intel® Node Manager, IPMI (Intelligent Platform Management Interface) v2.0 with KVM support, SPM, SSM, SUM, SuperDoctor® 5, Watchdog

Power Configurations

+12V DC Power Input
ACPI Power Management
PC Health Monitoring

Voltage

+1.5V, +12V, +3.3V, +5V, +5V standby, 1.05 (PCH), 1.2V (VDIMM), 3 -fan status, Memory Voltages, Monitors CPU voltages, Supports system management utility, VBAT

FAN

3x 4-pin fan headers (up to 3 fans), 3 fans with tachometer monitoring, Dual Cooling Zone, Fan speed control, Pulse Width Modulated (PWM) fan connectors, Support 3-pin fans (w/o speed control)

Temperature

Thermal Control for 3 Fan Connectors

LED

Other Features

12V DC or ATX Power Source, 8-pin 12v DC power connector, ACPI power management, ATX Power connector, Chassis intrusion header, Dual Cooling Zones, Node Manager Support, RoHS, UID
Operating Environment

Operating Temperature Range

0°C ~ 60°C (32°F ~ 140°F)

Non-Operating Temperature Range

-40°C – 85°C (-40°F – 185°F)

Operating Relative Humidity Range

10% ~ 85% (non-condensing)

Non-Operating Relative Humidity Range

10% ~ 95% (non-condensing)