Technical Specifications
GroundBreaking GPU and PCI-E Expansion Technology
The ExpEther technology enables system expansion by connecting PCI Express devices directly, using an Ethernet infrastructure. As the ExpEther keeps the native PCI Express connectivity, the PCI Express devices can also be operated as a single system, despite being distributed in different locations connected by Ethernet. This process enables standard PCI Express configurations, interruptions, and hot plugging to be remotely performed with an Ethernet LAN, as if they were connected to a virtual single-hop PCI Express switch.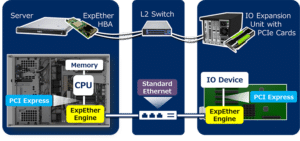 NEC's ExpEther 40G technology delivers a compelling solution for real-time Big Data processing and other data center workload acceleration. It does so by enabling the connection of GPGPU, NVMe SSD, or FPGA-based accelerators via an Ethernet connection. NEC has closely collaborated with Xilinx, a fellow ExpEther Consortium member, to validate and enable the ExpEther 40G technology as either an IP core or an ExpEther platform leveraging Xilinx UltraScale™ FPGAs. NEC launched the IP core business in January 2016.
ExpEther 40G provides customers with the following advantages:
Since all connections with the computing resources can be dynamically reconfigured, ExpEther40G technology optimizes the utilization rate.
Original software assets can be used without changing the device drivers, even when all resources are connected via Ethernet.
The service platform enables the scalability needed to process Internet of Things (IoT) solutions and big data projects in real time, especially in the area of high-performance servers, which have difficulty in utilizing ExpEther 1G/10G.
Artificial Intelligence and Deep Learning Use Cases
Deep Learning systems constantly require more computational power and adding new servers is always not practical. The ExpEther allows you to keep adding supercomputing power over ethernet and helps save time and money in realizing value from ongoing research.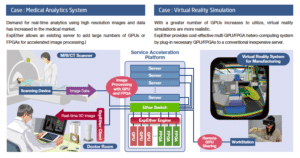 Components of ExpEther
Host Bus Adapter on Server
40GbE QSFP+ x 2 ports  (80Gbps)
x8 PCI Express 3.0  (8GT/s)
PCIe Low Profile Form-factor
Manufactured by NEC Corporation
Expansion Box
40GbE QSFP+ x 4 ports
PCI Express 3.0 (8GT/s) x 4 slots (x8 lanes / x16 slot)
Full height / Full length PCI Express Card
Manufactured by NEC Corporation
Technical Specifications
Item
Product Name/No.
2Slot:ExpEther I/O Expansion Unit (40G)-2S, N8141-80F 4Slot: ExpEther I/O Expansion Unit (40G)-4S, N8141-81F
PCI Express Slot
Spec.
PCI Express 3.0
Lane
x8 (Mechanical x16)
LinkSpeed
8.0Gbps(Gen3)
Number of Slots
2/4
PCIcard size
Full Height/ Full Length / Double Width size
LAN I/F
Port#
4
Speed
40Gbps (Single pass) / 80Gbps(Multiple pass)
Connector
QSFP+
Cable length
3m(Copper)/ 100m(Fiber)
Other Connector
Management LAN
10 –100Mbps (for Expansion Chassis management)
Power
1000W AC 100 –240V / 7.08AMAX with fan (100V), 12.47A MAX with fan (240V)
Dimension (WxHxD)
142mm x 131mmx 396mm
Accessories
GPU Power cablex 2