Supermicro SYS-4029GP-TVRT | 4029GP-TVRT 8 x NVIDIA Tesla V100 SXM2 32GB NVLink GPU 2S Xeon 6248 20C 512GB DGX-1 comparable OptiReady Deep Learning Server
The Supermicro SuperServer SYS-4029GP-TVRT 8 GPU Deep Learning Server is similar to NVIDIA's DGX-1. The DGX-1 and 4029GP-TVRT are built using the same NVIDIA architecture but the 4029GP-TVRT  offers higher flexibility in configuration and extremely attractive price/performance. Just like the DGX-1, the 4029GP-TVRT comes complete with NVIDIA's Deep Learning/AI NGC Docker software stack so you can start running your AI applications and training neural networks right away. This system has been deployed by our customers for maximum acceleration of highly parallel applications like Artificial Intelligence (AI), Deep Learning, Machine Learning, Autonomous Machines, Self-Driving Cars,Big Data Analytics, Internet of Things (IoT), Smart Cities, Oil & Gas Research,Computer Aided Design (CAD), Virtual/Augmented Reality, HPC,  Virtualization, Database Processing, and General IT & Cloud Enterprise Applications.
The 4029GP-TVRT system  supports eight NVIDIA Tesla V100 32GB SXM2 GPU accelerators with maximum GPU-to-GPU bandwidth for cluster and hyper-scale applications. Incorporating the latest NVIDIA NVLink technology with over five times the bandwidth of PCI-E 3.0, this system features independent GPU and CPU thermal zones to ensure high performance and stability under the most demanding workloads.
SYS-4029GP-TVRT with NVIDIA NGC Pre-Loaded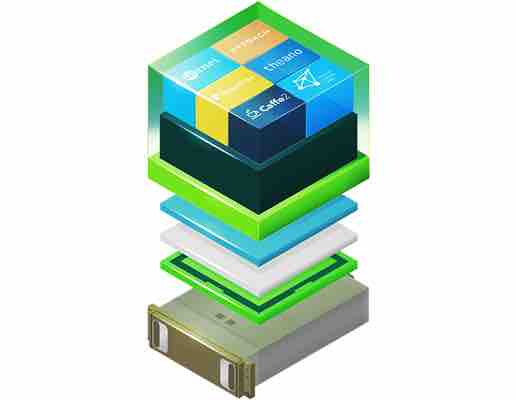 This Deep Learning server is available with NVIDIA NGC containers that can be preloaded. NGC empowers researchers, data scientists, and developers with performance-engineered containers featuring AI software like TensorFlow, Keras, PyTorch, MXNet, NVIDIA TensorRT™, RAPIDS and more. These pre-integrated containers feature NVIDIA AI stack including NVIDIA® CUDA® Toolkit, NVIDIA deep learning libraries which are easy to upgrade using Docker commands.
Key Features
Up to 8 NVIDIA Tesla V100 SXM2 32GB GPUs; Up to 300 GB/s GPU-to-GPU NVIDIA NVLINK; Optimized for NVIDIA GPUDirect RDMA
8 x NVIDIA Tesla V100 SXM2 32GB HBM2 NVLink GPU Installed
2 x Intel 6248 20Cores/40Threads 2.5GHz 150W CPU Installed
512GB (32GBx16) DDR4-2933 ECC Registered Memory Installed
1 x 960GB SATA3 6Gb/s,7.0mm,16nm,0.7 DWPD SSD Installed

16 Hot-swap 2.5″ SAS/SATA drives; Supports 8 NVMe drives

4 PCI-E 3.0 x16 (LP) (GPU tray for GPUDirect RDMA), 2 PCI-E 3.0 x16 (LP, CPU tray)

Dual 10GBase-T LAN with Intel® X550

8x 92mm cooling fans
2200W Redundant (2 2) Power

 Supplies; Titanium Level (96% )

Ubuntu Linux (latest compatible version) installed
NGC Docker Container for Deep Learning Pre-loaded (Optional, please select below)
Manufacturer's Part Number: SYS-4029GP-TVRT
Manufacturer's Product Page: https://www.supermicro.com/en/products/system/4U/4029/SYS-4029GP-TVRT.cfm