Sale!
Dihuni OptiReady Supermicro 4028GR-TVRT-8-1 8xNVIDIA Tesla V100 SXM2 NVLINK GPU 2xIntel Xeon 2.4GHz CPU, 256GB Mem, 960GB SSD 10G Deep Learning Server
$104,495.00 Free Shipping (USA)
The Supermicro SuperServer SYS-4028GR-TVRT is a GPU optimized server ready for the new NVIDIA Tesla V100 SXM2 GPU and ideal and customizable for your Digital Transformation Applications : Web Server, Mail Servers, Storage and Security Appliances, Network Infrastructure, Enterprise Software, Video Processing, Big Data, Hyperconverged Appliances, Internet of Things (IoT), Machine Learning (ML), Artificial Intelligence (AI) and general Data Center Virtualization & Private Cloud or Hyperscale Infrastructure Applications. Similar to the NVIDIA DGX-1 system, the Supermicro SYS-4028GR-TVRT offers high flexibility in configuration and extremely attractive price/performance.
Key Features
8 Tesla V100 SXM2 GPUs Installed – Up to 300 GB/s GPU-to-GPU NVLINK; Supports GPUDirect RDMA
Dual Intel® Xeon® processor E5-2640V4 2.4GHz Installed
256 GB ECC Reg DDR4- 2400 MHz Installed
4 PCI-E 3.0 x16 (low-profile) slots, 2 PCI-E 3.0 x8 slots
Dual 10GBase-T LAN with Intel® X540
1x960GB SSD Installed; up to 16 Hot-swap 2.5″ SATA/SAS drives; Supports 8 NVMe drives
8x 92mm cooling fans
2200W Redundant (2 2) Power
Supplies; Titanium Level (96% )

Price shown is for complete system built and tested at manufacturer's facilities. 
We accept all major credit cards e.g. MasterCard, Visa, American Express, Discover etc. Please review our Terms and Conditions and Return, Refund and Repair policy prior to purchase.
Product Enquiry
Technical Specifications
NVLink Performance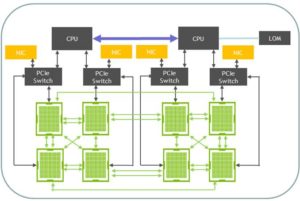 Systems with multiple GPUs and CPUs are becoming common in a variety of industries as developers rely on more parallelism in applications like AI computing. These include 4-GPU and 8-GPU system configurations using PCIe system interconnect to solve very large, complex problems. But PCIe bandwidth is increasingly becoming the bottleneck at the multi-GPU system level, driving the need for a faster and more scalable multiprocessor interconnect. NVIDIA® NVLink™ technology addresses this interconnect issue by providing higher bandwidth, more links, and improved scalability for multi-GPU and multi-GPU/CPU system configurations. A single NVIDIA Tesla® V100 GPU supports up to six NVLink connections and total bandwidth of 300 GB/sec—10X the bandwidth of PCIe Gen 3.
Supermicro Servers Featuring Intel E5-2600 v4 
Xeon®

Processors

Built on 14 nm process technology, the Intel® Xeon® processor E5-2600 v4 family offers up to 22 cores/44 threads per socket and 55 MB last-level cache (LLC) per socket for increased performance, as well as Intel® Transactional Synchronization Extensions (Intel® TSX) for increased parallel workload performance. You can dynamically manage shared resources efficiently and increase resource utilization with Intel® Resource Director Technology (Intel® RDT) offering cache monitoring and allocation technology, code and data prioritization, and memory bandwidth monitoring. Accelerated cryptographic performance enables encrypted data to move fast over secure connections, plus improved security keys help safeguard network access and deepen platform protection.
"Supermicro's total Infrastructure solutions maximize performance, density and efficiency with architecture innovations optimized for the latest Intel Xeon processor technology, high performance NVMe, and SIOM flexible networking up to 100G. Our expanding range of server and storage platforms including the new Simply Double SuperStorage, FatTwin, TwinPro, Ultra, MicroCloud, MicroBlade and SuperBlade provide the ultimate range of complete infrastructure building blocks."  

Charles Liang, President and CEO of Supermicro
Server Systems Management
Supermicro Server Manager (SSM) provides capabilities to monitor the health of server components including memory, hard drives and RAID controllers. It enables the datacenter administrator to monitor and manage power usage across all Supermicro servers allowing users to maximize their CPU payload while mitigating the risk of tripped circuit. Firmware upgrades on Supermicro servers became easier now with a couple of clicks. Administrators can now mount an ISO image on multiple servers and reboot the servers with those images. The tool also provides pre-defined reports and many more features that will make managing Supermicro servers simpler. Download the SSM_brochure for more info or download Supermicro SuperDoctor® device monitoring and management software.
Technical Specifications
SYS-4028GR-TVRT
SuperServer 4028GR-TVRT (Black)
CPU
Intel® Xeon® processor E5-2600 v4†/ v3 family (up to 145W TDP) *; Intel® Xeon® processor E5-2600; /
v3 family(up to 145W TDP); Dual Socket R3 (LGA 2011); Dual Socket R3 (LGA 2011)

2 x Intel® Xeon® processor E5-2640V4 2.4GHz Installed

Cores / Cache
Up to 22 Cores† / Up to 55MB† Cache
System Bus
QPI up to 9.6 GT/s

8 Tesla V100 16GB SXM2 GPUs Installed

Up to 300GB/s GPU-to-GPU NVLINK; Up to 300GB/s GPU-to-GPU NVLINK

Memory Capacity
24x 288-pin DDR4 DIMM slots; 24x 288-pin DDR4 DIMM slots; Up to 3TB† ECC 3DS LRDIMM, 2TB ECC RDIMM; Up to 3TB; ECC 3DS LRDIMM, 2TB ECC RDIMM

256GB DDR4-2400 Memory Installed

Memory Type
2400†/2133/1866/1600MHz ECC DDR4 SDRAM 72-bit
DIMM Sizes
RDIMM: 32GB, 16GB, 8GB, 4GB; LRDIMM: 64GB, 32GB; 3DS LRDIMM: 128GB
Memory Voltage
1.2 V; 1.2 V
Error Detection
Corrects single-bit errors
Chipset
Intel® C612 chipset; Intel® C612 chipset
SATA
SATA3 (6Gbps) with RAID 0, 1, 5, 10
IPMI
Support for Intelligent Platform Management Interface v.2.0; IPMI 2.0 with virtual media over LAN and KVM-over-LAN support; ASPEED AST2400 BMC
Network Controllers
Dual Port 10GbE with Intel X540 Ethernet Controller; Dual Port 10GbE with Intel X540 Ethernet Controller; Virtual Machine Device Queues reduce I/O overhead; Virtual Machine Device Queues reduce I/O overhead; Supports 10GBASE-T, 100BASE-TX, and 1000BASE-T, RJ45 output; Supports 10GBASE-T, 100BASE-TX, and 1000BASE-T, RJ45 output
Graphics
ASPEED AST2400 BMC
SATA
10 SATA3 (6Gbps) ports; 10 SATA3 (6Gbps) ports
LAN
2 RJ45 10GBase-T LAN ports; 1 RJ45 Dedicated IPMI LAN port
USB
2 USB 3.0 ports
Video
1 VGA Connector; 1 VGA Connector
Serial Port
1 Serial header
BIOS Type
128Mb SPI Flash EEPROM with AMI® BIOS; 128Mb SPI Flash EEPROM with AMI® BIOS
BIOS Features
Plug and Play (PnP); APM 1.2; DMI 2.3; PCI 2.3; ACPI 1.0 / 2.0 / 3.0; USB Keyboard support; SMBIOS 2.7.1; UEFI
Form Factor
4U Rackmountable; Rackmount Kit (MCP-290-00057-0N)
Model
CSE-R422BG
Height
7.0″ (178mm)
Width
17.6″ (447mm)
Depth
31.7″ (805mm)
Net Weight: 80 lbs (36.2 kg); Gross Weight: 135 lbs (61.2 kg)
Available Colors
Black
Hot-swap
16 Hot-swap 2.5″ SATA/SAS drive bays

1x960GB SSD Installed

PCI-Express
4 PCI-E 3.0 x16 (low-profile) slots; 2 PCI-E 3.0 x8 slots
Fans
8x 92mm Cooling Fans
Shrouds
1 Air Shroud (MCP-310-41808-0B)
2200W Redundant Titanium Level Power Supplies with PMBus
Total Output Power
1200W/1800W/1980W/2090W/2200W
(UL/cUL only)
Dimension
(W x H x L)
106.5 x 82.4 x 203.5 mm
Input
1200W: 100-127 Vac / 14-11 A / 50-60 Hz; 1800W: 200-220 Vac / 10-9.5 A / 50-60 Hz; 1980W: 220-230 Vac / 10-9.5 A / 50-60 Hz; 2090W: 230-240 Vac / 10-9.8 A / 50-60 Hz; 2200W: 220-240 Vac / 12-11 A / 50-60 Hz (UL/cUL only); 2090W: 180-220 Vac / 14-11 A / 50-60 Hz (UL/cUL only); 2090W: 230-240 Vdc / 10-9.8 A (CCC only)
+12V
Max: 100A / Min: 0A (1200W); Max: 150A / Min: 0A (1800W); Max: 165A / Min: 0A (1980W); Max: 174.17A / Min: 0A (2090W); Max: 183.3A / Min: 0A (2200W); Max: 174.17A / Min: 0A (2090W)
12Vsb
Max: 2A / Min: 0A
Output Type
Gold Finger (connector on M/P)
Certification
UL/cUL/CB/BSMI/CE/CCC; Titanium Level
CPU
Monitors for CPU Cores, +1.2V, 1.5V, +3.3V, +12V, (+3V, 1.0V, 1.2V, 1.8V, 1.1V) Standby, VBAT, Memory, Chipset Voltages.; 4-Phase-switching voltage regulator with auto-sense from 0.6V-1.35V
FAN
4-pin fan headers with tachometer status monitoring; Low noise fan speed control mode
Temperature
Monitoring for CPU and system environment; Thermal Control for 8 fan connectors
Other Features
Chassis intrusion detection
RoHS
RoHS Compliant
Environmental Spec.
Operating Temperature:
10°C to 35°C (50°F to 95°F); Non-operating Temperature:
-40°C to 70°C (-40°F to 158°F); Operating Relative Humidity:
8% to 90% (non-condensing); Non-operating Relative Humidity:
5% to 95% (non-condensing)
All products that show stock quantity (in green) above ship same/next business day.
General Guidelines: Below are typical lead times for Supermicro Servers:
– Barebone servers and motherboards ship in ~ 1 week or less; some ship same day depending on stock/order processing. Please check available stock quantity above that can ship immediately.
– OptiReady/Custom Complete Systems with CPU, Memory, GPU etc ~ 2 weeks
Did you know we are a major supplier of fully assembled and tested Intel Xeon and AMD EPYC servers from Supermicro, TYAN, NEC and others? All our systems are built and shipped by manufacturers directly with warranty through them. High Quality Direct from Manufacturer & No Hassles! Please send us your custom requirements including CPU, Memory, SSD etc.
Complete Systems built from Barebones Servers – All barebones servers listed on this site are configurable to your specifications. We prepare custom quotes and send to you typically in 24 hours after receiving your requirements. These servers are assembled and tested by the manufacturers and typically ship out in 2-3 weeks from order.
Supermicro Ultra Systems – There are Ultra systems from Supermicro (e.g. 6029U, 2029U, 6028U series) that are listed on this site which cannot be sold as barebones. Supermicro offers these products only as complete systems. Dihuni works closely with Supermicro to configure these Ultra Systems to your specific requirements. Please send us your requirements either through the 'Request Quote' button or email or call us.
Operating System Installation – Our manufacturing partners will install OS if they have been tested with their servers. Typically, Windows Server, Red Hat Linux and Ubuntu are installed.
Deep Learning Software Installation – On Tesla GPU servers, we offer installation of Dihuni's curated Deep Learning/AI Software Stack including NVIDIA Cuda Toolkit, NVIDIA DIGITS, NVIDIA TensorRT and NVCaffe, Caffe2, Microsoft Cognitive Toolkit (CNTK), MXNet, PyTorch, TensorFlow, Theano, and Torch Deep Learning Framework Software. All Post-Installation Support to be provided by Software Vendor.
Extended and Onsite Warranties – All systems come with 3 Years standard manufacturer's return to depot warranty. For onsite or extended warranty, please check with us.
"We purchased fully built Tesla V100 Deep Learning servers from Dihuni. Right from quoting to delivery, Dihuni's service was excellent. Also Supermicro did an excellent job in building our server and loading Ubuntu on it."
"We needed a high end Machine with EPYC 7000 processors to test our AI accelerators. We did not have a lot of time due to a customer commitment. I tried with many vendors but no one promised me this machine (in less than 2-3 weeks) due to Holiday season. I contacted Dihuni and Dihuni was on it within 15 minutes. Dihuni helped me to procure machine within 2 days. We got machine from Tyan's warehouse in Fremont and Dihuni managed everything without a beat."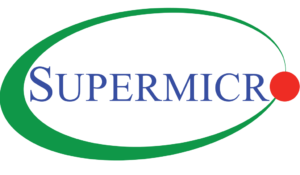 Supermicro is a leader in server technology innovation and green computing and provides application-optimized server, workstation, blade, storage and GPU systems. Based on its advanced Server Building Block Solutions, Supermicro offers the most optimized selection for IT, Internet of Things (IoT), Big Data, Analytics, Artificial Intelligence (AI), Deep Learning, Machine Learning, Video Processing, Data Center, HPC and Cloud deployments. The company's system architecture innovations include the Twin server, double-sided storage and SuperBlade® product families. Offering the most comprehensive product lines in the industry, Supermicro solutions deliver unmatched performance and value.
Dihuni has deep relationship and partnership with Supermicro and their partners. Here are some of the reasons why you should consider us for Supermicro products:
Lowest price in the market – we work hard to keep our Supermicro prices best in the market. We also price match so let us know if you find a product cheaper somewhere (specially full systems)
Direct from Supermicro – unlike system vendors who bring in components from multiple sources and do the integration where chances of quality issues, incompatibilities are higher, all our systems are built directly by Supermicro ensuring highest quality and system component and OS compatibility
Even when you order parts with server barebones, we ensure that we only ship Supermicro tested and validated components. For e.g. we will only ship Samsung, Hynix, Micron original memory certified by Supermicro instead of cheaper clone memory modules which are not supported by the manufacturer. We strongly recommend against using non-certified memory, SSD etc as not using them are top reasons for system failure and support issues.
Our leadership have over 20 years of experience in designing, developing and shipping thousands of Supermicro servers and OEM appliances globally.
We are consultative. Supermicro has hundreds of products and perhaps the largest number of server offerings from any single vendor. It can be complex to select the right product how to deploy and select products from the portfolio. We help you guide through your deployment scenarios and recommend the products you should buy
We are specialized in both hardware and software
We have made it extremely simple for you to buy Supermicro products through our easy to use E-Commerce platform.
We offer easy customization and configuration options for all Supermicro products. We also offer installation of Operating Systems (as qualified) e.g. Windows Server 2012,, RHEL, VMWare, Citrix etc and remote management software for BIOS firmware management, System Utilization (X10) and Asset Information (X10)
Standard annual warranty to installation support, 4-hour onsite support etc.
We work closely with Supermicro Product Management, Engineering, Sales and Support teams to keep up to date on  technical happenings and also help Supermicro with future product ideas coming through our customers. We are first to market with many Supermicro offerings for the same reason
We respond fast – whether its price or technical questions; we rope in the right contacts to answer your questions promptly
"We've purchased a number of Supermicro chassis from Dihuni in the past, and just bought 3 of these to rebuild our storage array. Every time we order, we get immediate response to questions, regular order updates, and all-around excellent service."
For complete server systems, we recommend contacting us for latest price as component prices change everyday. For all products, please contact us for and any additional discount requests based on volume, educational institutions based etc. Also, if you would like us to price match/beat, please send us the competitor quote and we will respond asap. Currently price match program is applicable to the following:
Fully Assembled and Configured Servers
Tridium Smart Building Products
NVIDIA Tesla GPUs
Note – competitors must be authorized resellers to be considered for this program.
"Dihuni has the best competitive pricing in the market and great service. They shipped the Nvidia Tesla V100 32GB GPUs to us in an expedited time frame. These GPUs are crucial to our enterprise level very high volume video transcoding systems. Thanks again to the Dihuni team!"
All products listed, sold and shipped are 100% new and factory packaged (not refurbished, open boxed or used). Standard and customized hardware products mostly ship direct from manufacturer's facilities after assembly and rigorous testing to ensure high quality and to reduce unnecessary shipping/handling. Software license keys are generated by software partners and delivered to your email addresses directly from the partner or through Dihuni.
Dihuni was formed to simplify Digital Transformation. The internet has changed everything – from software applications to compute, storage and networking hardware. At Dihuni, we believe every business is transforming to enable digital customer outcomes and our mission is to ensure we can enable you with the right hardware, software and services to make that happen. Believe us, no matter which application you are working on today, you are helping transform the world into a Digital place. Some of the reasons to trust your business to us :
World Class Partners

Dihuni partners with world class companies such as Dell, HPE, Lenovo, Supermicro, Intel, Microsoft, VMware and several other top Software and Hardware IT & IoT companies. We carefully select best-in-class technology and business partners and work with them on strategy, product roadmap and solutions development to ensure we not only provide you the best product but also help our partners enhance their offerings. With our deep rooted partnerships and relationships with product teams, we are able to escalate any product issue or provide new requirements based on your feedback directly to our partners.  Our partnerships offer you the best in the following areas :
Server, Storage and Networking Hardware

Cloud Services

Internet of Things (IoT)

Software Development – Onshore (US) and Offshore

Operating Systems

Consulting 

Federal Contracting
High Quality Manufacturing for Standard Products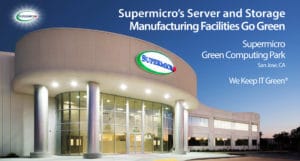 We leverage the manufacturing capabilities of our partners and work closely with them to customize your system. Instead of adding more complexity in shipping individual parts, integrating and testing it at facilities that require constant maintenance, we work closely with our OEM partners and use their expertise and operations so they can build a high quality system that is suitable for your exact application. By doing this, we are able to not only control manufacturing costs and pass on the savings to you but also deliver a system directly from our partner to you in any part of the world. At Dihuni, we ensure and select partners who adhere to rigorous design implementation, manufacturing standards and ISO standards to ensure that its products are produced with the highest quality and reliability. Our partners integrate only the best quality parts and components into their system boards, servers, and chassis. To ensure excellent performance even under extreme operating conditions, our products undergo rigorous environmental and intense computational testing. These quality efforts optimize system performance and minimize system downtime for you to have an extremely reliable system from Dihuni.
Focus on Solution, Not Just Hardware
We know you are looking for hardware as part of a solution that you are implementing. With our experience in software as well as real world IT implementation, we help you select the right product that fits your solution. There is huge complexity in implementing a successful solution regardless of whether you are a software developer wanting a fast developer machine or if you are involved in developing an efficient on-premise and cloud back-end infrastructure for your IT or Internet of Things (IoT) applications or setting up the right systems for data, analytics, Machine Learning, Artificial Intelligence (AI) and Digital Applications. We help you through your needs regardless of the size of your project and your budget. 
Experience Matters
Our leadership has over 20 years of experience in designing, developing, manufacturing and shipping servers and embedded/IoT systems in high volume. With direct experience with companies such as Dell, NEC, Supermicro, Honeywell, BSDi etc, we are experts in effective product management and will help you with every need you may have. We carefully select each product that we carry and understand the target applications for your systems. Utilizing our experience in software, we also provide Digital Transformation and Agile software development consulting services should you need help with any of your projects in IoT, IT etc.
We Really Believe in Customer Service
We believe and have implemented best practices in product design, development and more importantly customer service. This thinking is permeated throughout our company. We offer :
High Quality Products and Consultation on product positioning and suitability
Competitive Pricing
Fast response times
On-time Delivery
Completely customized systems and services including
Phone and Onsite Support including Manufacturer's Support
Marketing opportunity for your project and case studies
We appreciate your business! Please call us at 703-436-4721 or email us at digital@dihuni.com for any question or information. We respond promptly and you can contact us even during weekends.