Sale Plus Free Shipping!
Dihuni OptiReady Supermicro 4028GR-TVRT-8-1 8xNVIDIA Tesla V100 SXM2 NVLINK GPU 2xIntel Xeon 2.4GHz CPU, 256GB Mem, 960GB SSD 10G Deep Learning Server
$104,495.00
The Supermicro SuperServer SYS-4028GR-TVRT is a GPU optimized server ready for the new NVIDIA Tesla V100 SXM2 GPU and ideal and customizable for your Digital Transformation Applications : Web Server, Mail Servers, Storage and Security Appliances, Network Infrastructure, Enterprise Software, Video Processing, Big Data, Hyperconverged Appliances, Internet of Things (IoT), Machine Learning (ML), Artificial Intelligence (AI) and general Data Center Virtualization & Private Cloud or Hyperscale Infrastructure Applications. Similar to the NVIDIA DGX-1 system, the Supermicro SYS-4028GR-TVRT offers high flexibility in configuration and extremely attractive price/performance.
Key Features
8 Tesla V100 SXM2 GPUs Installed – Up to 300 GB/s GPU-to-GPU NVLINK; Supports GPUDirect RDMA
Dual Intel® Xeon® processor E5-2640V4 2.4GHz Installed
256 GB ECC Reg DDR4- 2400 MHz Installed
4 PCI-E 3.0 x16 (low-profile) slots, 2 PCI-E 3.0 x8 slots
Dual 10GBase-T LAN with Intel® X540
1x960GB SSD Installed; up to 16 Hot-swap 2.5″ SATA/SAS drives; Supports 8 NVMe drives
8x 92mm cooling fans
2200W Redundant (2 2) Power
Supplies; Titanium Level (96% )

Price shown is for complete system built and tested at manufacturer's facilities. 
We accept all major credit cards e.g. MasterCard, Visa, American Express, Discover etc. Please review our Terms and Conditions and Return, Refund and Repair policy prior to purchase.
Technical Specifications
NVLink Performance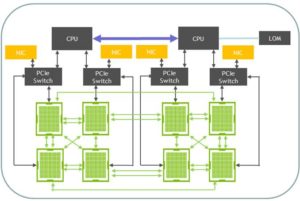 Systems with multiple GPUs and CPUs are becoming common in a variety of industries as developers rely on more parallelism in applications like AI computing. These include 4-GPU and 8-GPU system configurations using PCIe system interconnect to solve very large, complex problems. But PCIe bandwidth is increasingly becoming the bottleneck at the multi-GPU system level, driving the need for a faster and more scalable multiprocessor interconnect. NVIDIA® NVLink™ technology addresses this interconnect issue by providing higher bandwidth, more links, and improved scalability for multi-GPU and multi-GPU/CPU system configurations. A single NVIDIA Tesla® V100 GPU supports up to six NVLink connections and total bandwidth of 300 GB/sec—10X the bandwidth of PCIe Gen 3.
Supermicro Servers Featuring Intel E5-2600 v4 
Xeon®

Processors

Built on 14 nm process technology, the Intel® Xeon® processor E5-2600 v4 family offers up to 22 cores/44 threads per socket and 55 MB last-level cache (LLC) per socket for increased performance, as well as Intel® Transactional Synchronization Extensions (Intel® TSX) for increased parallel workload performance. You can dynamically manage shared resources efficiently and increase resource utilization with Intel® Resource Director Technology (Intel® RDT) offering cache monitoring and allocation technology, code and data prioritization, and memory bandwidth monitoring. Accelerated cryptographic performance enables encrypted data to move fast over secure connections, plus improved security keys help safeguard network access and deepen platform protection.
"Supermicro's total Infrastructure solutions maximize performance, density and efficiency with architecture innovations optimized for the latest Intel Xeon processor technology, high performance NVMe, and SIOM flexible networking up to 100G. Our expanding range of server and storage platforms including the new Simply Double SuperStorage, FatTwin, TwinPro, Ultra, MicroCloud, MicroBlade and SuperBlade provide the ultimate range of complete infrastructure building blocks."  

Charles Liang, President and CEO of Supermicro
Server Systems Management
Supermicro Server Manager (SSM) provides capabilities to monitor the health of server components including memory, hard drives and RAID controllers. It enables the datacenter administrator to monitor and manage power usage across all Supermicro servers allowing users to maximize their CPU payload while mitigating the risk of tripped circuit. Firmware upgrades on Supermicro servers became easier now with a couple of clicks. Administrators can now mount an ISO image on multiple servers and reboot the servers with those images. The tool also provides pre-defined reports and many more features that will make managing Supermicro servers simpler. Download the SSM_brochure for more info or download Supermicro SuperDoctor® device monitoring and management software.
Technical Specifications
SYS-4028GR-TVRT
SuperServer 4028GR-TVRT (Black)
CPU
Intel® Xeon® processor E5-2600 v4†/ v3 family (up to 145W TDP) *; Intel® Xeon® processor E5-2600; /
v3 family(up to 145W TDP); Dual Socket R3 (LGA 2011); Dual Socket R3 (LGA 2011)

2 x Intel® Xeon® processor E5-2640V4 2.4GHz Installed

Cores / Cache
Up to 22 Cores† / Up to 55MB† Cache
System Bus
QPI up to 9.6 GT/s

8 Tesla V100 16GB SXM2 GPUs Installed

Up to 300GB/s GPU-to-GPU NVLINK; Up to 300GB/s GPU-to-GPU NVLINK

Memory Capacity
24x 288-pin DDR4 DIMM slots; 24x 288-pin DDR4 DIMM slots; Up to 3TB† ECC 3DS LRDIMM, 2TB ECC RDIMM; Up to 3TB; ECC 3DS LRDIMM, 2TB ECC RDIMM

256GB DDR4-2400 Memory Installed

Memory Type
2400†/2133/1866/1600MHz ECC DDR4 SDRAM 72-bit
DIMM Sizes
RDIMM: 32GB, 16GB, 8GB, 4GB; LRDIMM: 64GB, 32GB; 3DS LRDIMM: 128GB
Memory Voltage
1.2 V; 1.2 V
Error Detection
Corrects single-bit errors
Chipset
Intel® C612 chipset; Intel® C612 chipset
SATA
SATA3 (6Gbps) with RAID 0, 1, 5, 10
IPMI
Support for Intelligent Platform Management Interface v.2.0; IPMI 2.0 with virtual media over LAN and KVM-over-LAN support; ASPEED AST2400 BMC
Network Controllers
Dual Port 10GbE with Intel X540 Ethernet Controller; Dual Port 10GbE with Intel X540 Ethernet Controller; Virtual Machine Device Queues reduce I/O overhead; Virtual Machine Device Queues reduce I/O overhead; Supports 10GBASE-T, 100BASE-TX, and 1000BASE-T, RJ45 output; Supports 10GBASE-T, 100BASE-TX, and 1000BASE-T, RJ45 output
Graphics
ASPEED AST2400 BMC
SATA
10 SATA3 (6Gbps) ports; 10 SATA3 (6Gbps) ports
LAN
2 RJ45 10GBase-T LAN ports; 1 RJ45 Dedicated IPMI LAN port
USB
2 USB 3.0 ports
Video
1 VGA Connector; 1 VGA Connector
Serial Port
1 Serial header
BIOS Type
128Mb SPI Flash EEPROM with AMI® BIOS; 128Mb SPI Flash EEPROM with AMI® BIOS
BIOS Features
Plug and Play (PnP); APM 1.2; DMI 2.3; PCI 2.3; ACPI 1.0 / 2.0 / 3.0; USB Keyboard support; SMBIOS 2.7.1; UEFI
Form Factor
4U Rackmountable; Rackmount Kit (MCP-290-00057-0N)
Model
CSE-R422BG
Height
7.0″ (178mm)
Width
17.6″ (447mm)
Depth
31.7″ (805mm)
Net Weight: 80 lbs (36.2 kg); Gross Weight: 135 lbs (61.2 kg)
Available Colors
Black
Hot-swap
16 Hot-swap 2.5″ SATA/SAS drive bays

1x960GB SSD Installed

PCI-Express
4 PCI-E 3.0 x16 (low-profile) slots; 2 PCI-E 3.0 x8 slots
Fans
8x 92mm Cooling Fans
Shrouds
1 Air Shroud (MCP-310-41808-0B)
2200W Redundant Titanium Level Power Supplies with PMBus
Total Output Power
1200W/1800W/1980W/2090W/2200W
(UL/cUL only)
Dimension
(W x H x L)
106.5 x 82.4 x 203.5 mm
Input
1200W: 100-127 Vac / 14-11 A / 50-60 Hz; 1800W: 200-220 Vac / 10-9.5 A / 50-60 Hz; 1980W: 220-230 Vac / 10-9.5 A / 50-60 Hz; 2090W: 230-240 Vac / 10-9.8 A / 50-60 Hz; 2200W: 220-240 Vac / 12-11 A / 50-60 Hz (UL/cUL only); 2090W: 180-220 Vac / 14-11 A / 50-60 Hz (UL/cUL only); 2090W: 230-240 Vdc / 10-9.8 A (CCC only)
+12V
Max: 100A / Min: 0A (1200W); Max: 150A / Min: 0A (1800W); Max: 165A / Min: 0A (1980W); Max: 174.17A / Min: 0A (2090W); Max: 183.3A / Min: 0A (2200W); Max: 174.17A / Min: 0A (2090W)
12Vsb
Max: 2A / Min: 0A
Output Type
Gold Finger (connector on M/P)
Certification
UL/cUL/CB/BSMI/CE/CCC; Titanium Level
CPU
Monitors for CPU Cores, +1.2V, 1.5V, +3.3V, +12V, (+3V, 1.0V, 1.2V, 1.8V, 1.1V) Standby, VBAT, Memory, Chipset Voltages.; 4-Phase-switching voltage regulator with auto-sense from 0.6V-1.35V
FAN
4-pin fan headers with tachometer status monitoring; Low noise fan speed control mode
Temperature
Monitoring for CPU and system environment; Thermal Control for 8 fan connectors
Other Features
Chassis intrusion detection
RoHS
RoHS Compliant
Environmental Spec.
Operating Temperature:
10°C to 35°C (50°F to 95°F); Non-operating Temperature:
-40°C to 70°C (-40°F to 158°F); Operating Relative Humidity:
8% to 90% (non-condensing); Non-operating Relative Humidity:
5% to 95% (non-condensing)
All products listed, sold and shipped are 100% new and factory packaged (not refurbished, open boxed or used). Standard and customized hardware products mostly ship direct from manufacturer's facilities after assembly and rigorous testing to ensure high quality and to reduce unnecessary shipping/handling. Software license keys are generated by software partners and delivered to your email addresses directly from the partner or through Dihuni.
"With Dihuni's prompt service, we got up to speed with NVIDIA Tesla V100 32GB GPU for our Deep Learning application. The product was just released by NVIDIA and Dihuni delivered on time for our project and without hassle!"
Engineering Manager, Tech Co, USA
"Dihuni helped us define our Deep Learning Server to include Xeon CPUs and Tesla V100 GPUs. We received the fully configured system on time and are very happy with Dihuni as our partner."
University Research Professional, USA
"With Dihuni's prompt service, we got up to speed with NVIDIA Tesla V100 32GB GPU for our Deep Learning application. The product was just released by NVIDIA and Dihuni delivered on time for our project and without hassle!"
Engineering Manager, Tech Co, USA
"We purchased a variety of systems for low-power applications from Dihuni. Dihuni engaged with us to ensure we selected the best options for our requirements and gave us access to newly introduced systems. We would recommend Dihuni to other buyers because of the quality of their customer care."
Strategic Marketing Manager, Top 15 Semiconductor Co.
"We've purchased AMD EPYC Servers from Dihuni, and their service and response was top notch. They clarified exactly what we needed, what type of motherboard will fit best our needs, and delivered the servers on time and in tip top condition. Was a pleasure working with them!"
CTO, Tech Co., Tel Aviv, Israel
"We ordered the SuperMicro 5019A-FTN4 SuperServer featuring the latest "Denverton" Intel Atom C3758 processor from Dihuni within days of the product being available.  Working with Dihuni was an absolute pleasure, they kept us informed/updated on the order process and made sure to get the product shipped in time to meet our tight deadline.  We are running several virtual machines on the Windows 2016 Hyper-V platform: Palo Alto Networks VM-100 firewall, Aruba Networks Virtual Mobility Controller, BlueCat DNS/DHCP servers and a few Windows Server 2012 & 2016 servers in our POC lab.  We configured our system with 64GB of RAM and it's easily handled the workload we've thrown at it. I highly recommend purchasing all of your SuperMicro server equipment from Dihuni, you won't be disappointed!"
Robert Tesdall, Sr. Network Engineer, Enterprise Networks Solutions, USA
Dihuni was formed to simplify Digital Transformation. The internet has changed everything – from software applications to compute, storage and networking hardware. At Dihuni, we believe every business is transforming to enable digital customer outcomes and our mission is to ensure we can enable you with the right hardware, software and services to make that happen. Believe us, no matter which application you are working on today, you are helping transform the world into a Digital place. Some of the reasons to trust your business to us :
World Class Partners
Dihuni partners with world class companies such as Dell, HPE, Lenovo, Supermicro, Intel, Microsoft and several other top Software and Hardware companies. We carefully select best-in-class technology and business partners and work with them on strategy, product roadmap and solutions development to ensure we not only provide you the best product but also help our partners enhance their offerings. With our deep rooted partnerships and relationships with product teams, we are able to escalate any product issue or provide new requirements based on your feedback directly to our partners.  Our partnerships offer you the best in the following areas :
Server, Storage and Networking Hardware

Cloud Services

Internet of Things (IoT)

Software Development – Onshore (US) and Offshore

Operating Systems

Consulting 

Federal Contracting
High Quality Manufacturing for Standard Products
We leverage the manufacturing capabilities of our partners and work closely with them to customize your system. Instead of adding more complexity in shipping individual parts, integrating and testing it at facilities that require constant maintenance, we work closely with our OEM partners and use their expertise and operations so they can build a high quality system that is suitable for your exact application. By doing this, we are able to not only control manufacturing costs and pass on the savings to you but also deliver a system directly from our partner to you in any part of the world. At Dihuni, we ensure and select partners who adhere to rigorous design implementation, manufacturing standards and ISO standards to ensure that its products are produced with the highest quality and reliability. Our partners integrate only the best quality parts and components into their system boards, servers, and chassis. To ensure excellent performance even under extreme operating conditions, our products undergo rigorous environmental and intense computational testing. These quality efforts optimize system performance and minimize system downtime for you to have an extremely reliable system from Dihuni.
Focus on Solution, Not Just Hardware
We know you are looking for hardware as part of a solution that you are implementing. With our experience in software as well as real world IT implementation, we help you select the right product that fits your solution. There is huge complexity in implementing a successful solution regardless of whether you are a software developer wanting a fast developer machine or if you are involved in developing an efficient on-premise and cloud back-end infrastructure for your IT or Internet of Things (IoT) applications or setting up the right systems for data, analytics, Machine Learning, Artificial Intelligence (AI) and Digital Applications. We help you through your needs regardless of the size of your project and your budget. 
Experience Matters
Our leadership has over 20 years of experience in designing, developing, manufacturing and shipping servers and embedded/IoT systems in high volume. With direct experience with companies such as Dell, NEC, Supermicro, Honeywell, BSDi etc, we are experts in effective product management and will help you with every need you may have. We carefully select each product that we carry and understand the target applications for your systems. Utilizing our experience in software, we also provide Digital Transformation and Agile software development consulting services should you need help with any of your projects in IoT, IT etc.
We Really Believe in Customer Service
We believe and have implemented best practices in product design, development and more importantly customer service. This thinking is permeated throughout our company. We offer :
High Quality Products and Consultation on product positioning and suitability
Competitive Pricing
Fast response times
On-time Delivery
Completely customized systems and services including
Phone and Onsite Support including Manufacturer's Support
Marketing opportunity for your project and case studies
We appreciate your business! Please call us at 703-436-4721 or email us at digital@dihuni.com for any question or information. We respond promptly and you can contact us even during weekends.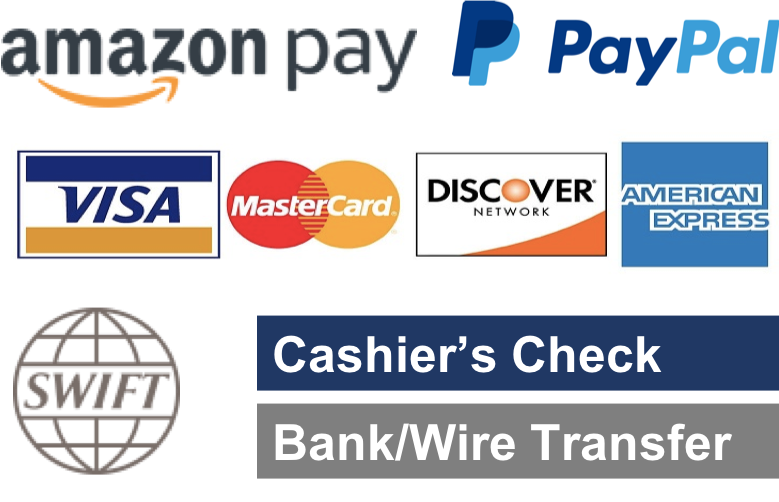 Besides using Credit Card, PayPal or Amazon Pay, you have the option to place an order online without instant payment using Bank/Wire Transfer method at checkout and then transfer funds after receiving order confirmation. Note – order will only ship after receipt of payment, except for approved Net Terms orders. You can attach your Purchase Order and Net Terms documents at checkout.
What are the type of products Dihuni can help me with?
Dihuni brings the world of Information Technology (IT) and Internet of Things (IoT) together and is engaged in the following type of products that are needed for Digital Transformation applications:
IT infrastructure finished products such as pre-configured or customized servers, storage, hyperconverged, networking products from Dell, NEC, Supermicro, Tyan, HPE etc
System building blocks/components such as sever barebones, CPU, memory etc from Intel, AMD, Samsung, Hynix etc
Internet of Things (IoT) infrastructure products such as edge computing embedded systems, IoT Networking etc
Deep Learning GPU based systems for big data analytics and predictive modeling
Software products including Software as a Service (SaaS) offerings:

Operating Systems
Systems Management Software
IoT Platform for connecting and managing edge devices and analyzing data generated from devices
Deep Learning software
IoT Applications for Building Management, Factory Automation, Home Automation etc
Cloud Services
I searched Dihuni.com and cannot find the product I need. Can Dihuni help with ordering products not listed on the website?
Yes, our vendor partners carry thousands of products and we don't have all of them listed here. We will be happy to help fulfill such products for you. For example, if you buy a server or embedded IoT product but don't see compatible memory or solid state disk or IO module listed on Dihuni.com, please contact us and we will send pricing info and help you process the order manually.
Which payment methods do you accept?
We accept a wide range of payment methods including: Visa, MasterCard, Discover Card, American Express, PayPal, Amazon Pay, Cashier's check, Bank/Wire Transfer and Purchase Orders (PO). To qualify for Net Terms, you can submit a credit application with relevant financial statements along with your PO by emailing digital@dihuni.com . Orders paid by Cashier's checks require additional processing time and will ship only after checks are cleared.
I want to order a high-end product that is listed for more than $50,000 on your website. How do I order such products?
We understand very high-end systems such as Deep Learning servers can range in price up to $200,000 or more and are not suitable for payment by credit card. However, you can order the product through our online system using bank transfer as payment method. There will be no actual financial transaction in such scenario. Once we receive the order notification, we will contact you about your payment method i.e. provide you with our bank/wire information after verifying your company and billing/shipping address. If you would like to set up Net Terms, you can attach and send your Purchase Order along with your credit application to digital@dihuni.com before or after online ordering.
If online ordering for such systems is not suitable, please contact us by email or phone and we will process your order manually.
Does Dihuni accept phone orders?
Yes, for customers who prefer ordering by phone, our sales team will help process your order manually.
I need a formal quote for my company or university's Purchasing department. Can Dihuni provide that?
Yes, please select the 'Request Quote' button and send us your product and quoting requirements and we will send you a formal quote. Please provide your billing and shipping address and contact information so we can prepare a formal quote which is usually sent as a PDF document.
What are 'Dihuni OptiReady' products?
'Dihuni OptiReady' products are 'optimized and ready' for applications. These are server, storage and embedded systems that are fully built and tested with components such as CPU, memory, hard disk, GPU, software etc that can be purchased as a fully functional system instead of a barebones system. In some cases, OptiReady may also imply a custom board + enclosure combination that are not standard manufactured by the customer; the product description will refer to such systems as barebones.
I like the barebones products on your website but need them to be built out to my specific requirements. The Dihuni OptiReady products are close but don't meet my exact requirements. How can I request customization?
A significant portion of our business is in customized and complete systems vs barebones. Dihuni OptiReady systems were  designed to meet most common system requirements however we understand your requirements can be unique. To get a quote on a completely customized system, please use the 'Request Quote' button and send us your desired specifications. We will get back to you with a custom system quote. This process usually takes about 2-3 days as all our customized quotes come directly from the manufacturer and is subject to their processing time.
Does Dihuni build all servers and IoT products in-house? If not, why?
No, unless a product has been designed from scratch by Dihuni, we don't build servers/systems at our facilities. We specifically adopted a business model to work directly with manufacturers (OEMs) directly and have them build our systems – both standard and customized – to ensure highest quality. Our manufacturer's only build systems with components that are tested and qualified by their engineering team and provide direct warranty on such systems. For systems deployed in data centers or used for Deep Learning, IoT etc, we believe that the products must be hugely reliable and there is nobody better positioned to build such products than the manufacturers. Additionally to keep our costs down and pass those savings to you, we mostly drop ship hardware products from the manufacturer directly to your shipping address.
Does Dihuni offer warranty and technical support? 
All hardware products come with manufacturer's standard warranty. Depending on the product/manufacturer, you can also purchase extended support options such as 5 year warranty, Next Business Day Onsite support etc. Licensed software products usually come with some basic support with options to select extended support. Software as a Service (SaaS) or other subscription based offerings also usually come with support bundled for the duration of the subscription.
What is your order processing and shipping lead times?
We usually process orders within 2 hours of receipt and send them to the specific manufacturer or software vendor for fulfillment. Orders received during weekends are processed on Mondays (except for holidays). Hardware inventory levels change every day so we check with our suppliers every time we receive an online order. Our sales teams will inform you of expected shipping time-frame after an order is received. As a general guideline, for hardware components and barebones systems that are in stock, the products are usually shipped within 3-5 days from order. Some components/barebones systems may ship same day depending on the item and vendor and if an order is placed before noon eastern US time. You can also request an order to be rushed; we don't charge any rush fee and route all rush requests to our partners but we cannot guarantee that orders will be expedited.
Custom built systems typically take about 2-3 weeks from assembly to test. And after release from production, delivery time depends on the shipping method you have selected.
After I place my order, how will I be notified of the progress of my order? 
Dihuni sales team will keep you informed of your order by e-mail or through your account page on the website. Once an item is shipped, we will email you the tracking number of your shipment.
Does Dihuni sell any refurbished or used products?
No, we only sell and ship 100% new, factory packaged products.
How can I cancel my order? Can I get refund?
All product sales are non-cancellable, final and non-refundable after they have been processed unless otherwise stated on product description pages. Only Dead on Arrival (DOA) Products may be returned for exchange or credit within 15 days from Dihuni's invoice date. Credit will only be issued if returned products are in brand new condition and if manufacturer approves such return for credit and/or is unable to exchange with a comparable product. Dihuni will charge a restocking fee of an amount no less than 25% of the original purchase price for any returned product that is non-defective or arrives with an incomplete package. Customer must obtain a Return Merchandise Authorization (RMA) number from Dihuni. Please see our Returns, Repair and Refund policy for more details.
Why has my credit card been declined?
A credit card could be declined for various reasons including but not limited to: invalid credit card number, wrong billing address, expired card, in excess of daily limit, or insufficient credit. It is also possible that the card number (or expiration date) was entered incorrectly. Sometimes credit card companies will soft decline a transaction and will require you to call them to pre-approve a charge after which you can re-enter the information.
Can Dihuni advise me on compatibility for the items that I wish to purchase?
For all Do it Yourself/barebones/component products, we can help answer your compatibility questions only in accordance with manufacturer's supplied information but cannot guarantee product compatibility. We suggest that you check with the manufacturer to resolve any compatibility issues before making your purchase. The manufacturer should be able to accurately answer your technical questions.
For all customized complete systems and Dihuni OptiReady pre-configured systems, Dihuni will ensure all selected components are fully compatible.
Where is Dihuni based and which countries do you ship products? 
Dihuni is a USA company headquartered and registered in the state of Virginia (VA). Our products are sold across USA and worldwide geographies with international customers in Europe, Asia etc. Most products ship overseas from the USA unless manufacturer has a facility located overseas and prefers to ship from that location. We do not ship to countries embargoed by the US government.
I work for the US government. Does Dihuni conduct business with the US government?
Yes, Dihuni is an active supplier to the US government and defense agencies. Below is our information as registered on SAM.gov
DUNS: 078485029 CAGE: 6RNF1, EIN: 45-5347922 NAICS: 334111 (Primary), Additional 541512
Do you offer volume discounts?
Yes, we will work with our suppliers to offer high volume discounts wherever possible. Please contact us with your high volume requirements.
If an item says, "Due to the complexity of integration, this product is sold as a completely assembled system only", what does it mean from online ordering perspective?
Some barebones products are listed with price but have a note that says the product is only sold as a complete system. The product price for such systems is provided only for informational purposes. You must not purchase these barebones products online. Instead you can select a pre-configured OptiReady system if listed or contact us with your specifications so we can price a completely assembled system for you.
Do you charge sales tax? I am eligible for tax exemption.
Besides Virginia, depending on the product/manufacturer, we charge sales in states where we have nexus. For e.g. for all Supermicro products, we charge sales tax in Virginia, California, Florida and Illinois. If you are eligible for tax exemption in those states, please attach your Government Tax Exempt Permit/Reseller's Certificate etc during checkout or email us after placing the order online. We will refund you the tax portion for your order after we validate your tax exempt status. You can also email us your tax exemption document before placing an oder if you would like pre-approval for tax exemption.
What is Dihuni's unique value proposition and why we should buy from you?
Dihuni was born out of the need for ONE company that can serve both the IT and IoT infrastructure needs for today's and tomorrow's digital transformation applications. The company has been founded by an industry pioneer with experience in developing and marketing world class products generating billions of dollars for companies such as Dell, NEC, Supermicro, NEC Corporation, Honeywell etc. We recognize that our customer's IT and IoT environments are changing and we have deep understanding of technology and digital application markets. We differentiate in multiple ways:
We are a technology company – not another online company that sells diapers and computers on the same site. Our focus is on bringing the broadest, most advanced and reliable technology products to you for your digital transformation applications. And as diapers are getting connected to the internet with the promise of IoT, we will certainly sell them as they turn into technology products!
Close Partnerships – As authorized partners of top global companies, we work directly with their product teams to bring the best products to you and often have early access to new products. In several cases, we help vendor Product groups design new products and therefore have a strong 2-way relationship.
Best pricing – our business model ensures cutting of logistics and overhead costs and thereby passing you the savings. We strive to keep our pricing among the lowest in the industry.
Consultative, Simplification and Responsiveness – we provide detailed product information and help you with narrowing down and finalizing your product requirements, simplify your buying experience and are responsive right from initial communication to quoting to delivery and post-sales engagement.
Customer & Quality Always First – we don't just believe in it but also push our partners to maintain the same standards. We are customers for our suppliers and we understand the importance of on-time delivery and high product quality and are committed to delivering the same and top-notch customer service to you.