This product is sold only as a complete system. Please fill out configuration form below. Educational and Inception Discounts Available. 
The Supermicro SuperServer SYS-420GP-TNAR is extremely suitable for Digital Transformation applications from natural speech by computers to autonomous vehicles, predictive analytics in manufacturing, smart cities, smart buildings etc.  With the explosion in IT and IoT data, AI models are exploding in size. HPC applications are similarly growing in complexity as they unlock new scientific insights. The 420GP-TNAR can be optimized to deliver the highest compute performance and memory for rapid model training.
Optimized for AI and machine learning, Supermicro's new 4U system supports eight A100 Tensor Core GPUs. The 4U form factor with eight GPUs is ideal for customers that want to scale their deployment as their processing requirements expand. The new 4U system will have one NVIDIA HGX A100 8 GPU board with eight A100 GPUs all-to-all connected with NVIDIA NVSwitch™ for up to 600GB per second GPU-to-GPU bandwidth and eight expansion slots for GPUDirect RDMA high-speed network cards. Ideal for deep learning training, data centers can use this scale-up platform to create next-gen AI and maximize data scientists' productivity with support for ten x16 expansion slots. Comparable to the NVIDIA DGX A100, the Supermicro SYS-420GP-TNAR offers high flexibility in configuration and extremely attractive price/performance. Below is an OptiReady configuration ready for your AI/Deep Learning needs.
NVIDIA NGC Pre-Loaded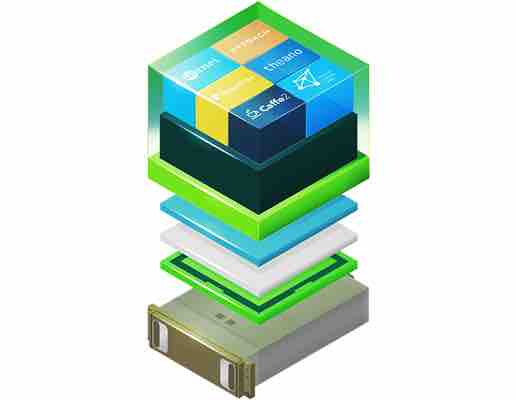 This Deep Learning server is available with NVIDIA NGC containers that can be preloaded. NGC empowers researchers, data scientists, and developers with performance-engineered containers featuring AI software like TensorFlow, Keras, PyTorch, MXNet, NVIDIA TensorRT™, RAPIDS and more. These pre-integrated containers feature NVIDIA AI stack including NVIDIA® CUDA® Toolkit, NVIDIA deep learning libraries which are easy to upgrade using Docker commands.
Key Features
Manufacturer Part Number: SYS-420GP-TNAR
Dual Socket P+ (LGA-4189) 3rd Gen Intel® Xeon® Scalable Processors
Intel® C621A Chipset
32 DIMM Slots;
Up to 8TB DRAM;
Up to 8TB Intel® Optane™ Persistent Memory (up to 12TB with DRAM);
3200/2933/2666 ECC DDR4 LRDIMM;RDIMM;
Intel® Optane™ Persistent Memory 200 series
10 PCI-E Gen 4.0 X16 LP Slots
AIOM/OCP 3.0 Support
Flexible networking options
2 M.2 NVMe and SATA
6x 2.5″ Hot-swap NVMe/SATA/SAS drive bays
4 heavy duty fans with optimal fan speed control
4x 2200W redundant Titanium level power supplies
NGC Docker Container for Deep Learning Pre-loaded (Optional, please select below)