Technical Specifications
Compelling and Easy IoT Application Builder
Applications Built using DGLogik DGLux5

How it Works?
DGLogik DGLux 5 collects and combines various data sources through the Tridium Niagara platform into a single integrated development environment, thus allowing developers to create stunning visualizations and web applications that address various IoT use cases. All IoT applications in the examples above are built using DGLux5 as the Development Tool. The DGLogik and Niagara Community uses DGLux5 to build applications rapidly, per their custom requirements.
Cross Platform Solution
DGLogik DGLux5 allows users to access their application with Native "in-browser" loading on iOS, Android, and Windows Mobile – not a single app is required! Intelligent scaling with responsive layout ensuring that every user interface is automatically optimized for any screen size to ensure optimal viewer experience on any mobile device. Access your performance data in an easily comprehensible manner in real-time, wherever you may be in the world. Hold the power of information in the palm of your hand. Reap the benefits of being mobile and flexible without sacrificing style and functionality in your IoT visualization system.
Supported Data Connectors
DGLogik DGLux5 supports all of the protocols that are supported by the Tridium Niagara platform. Some of the common buildings protocols that Niagara supports are Haystack, BACnet, Modbus, OPC, KNX, DMX, MQTT SNMP etc. For a complete list of Niagara drivers, please visit here.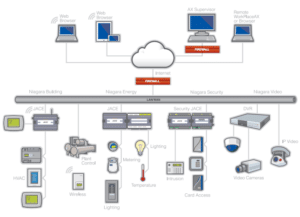 Supported Operating Systems/Platforms
• x32 Windows • x64 Windows • x32 Linux • x64 Linux • x64 Linux (Static) • x32 Mac OS • x64 Mac OS • ARM Linux • Dreamplug • Beaglebone
Browser Compatibility
DGLux5 is a 100% HTML5 application that does not require any special browser plugins. DGLogik recommends the use the latest version of Google Chrome web-browser for the best user-experience.
DGLogik is part of Acuity Brands, Inc.