Sale!
VYKON JACE 8000 (J-8100) with Tridium Niagara Open IoT Software for Smart Buildings, Smart Cities, Data Centers 100 Devices 5000 Points 1.5 Yr Support
$8,050.00 Free Shipping (USA)
The VYKON JACE 8000 (J-8100/JACE 8100) Niagara 4 IoT Platform supports 100 devices and 5000 data points and is an open, Java-based framework that can connect almost any embedded device or system—regardless of manufacturer or communication protocol. It includes a comprehensive graphical toolset that lets you build rich applications in a drag-and-drop environment and easily manage your assets using a standard web browser. The JACE 8000 with the Niagara software platform connects millions of devices globally and enables smart buildings, smart factories, smart cities and other IoT applications where edge device data and analytics is necessary for creating meaningful use cases.
Key Features
VYKON branded JACE 8000 Embedded Hardware and Tridum Niagara 4 Software Bundle Ready for Deployment.
Open Tridium Niagara Software Framework supports industry standard protocols like BacNet, ModBus, LON, Niagara, OBIX, PLC, SCADA, OPC
No coding necessary. Wiresheet based programming for non-programmers
Thousands of connectivity drivers from Niagara Community or create your own driver easily using SDK
Scalable solution that can handle millions of devices and data points
Modern and easy to use HTML5 interface
IoT Infrastructure site-wide search capabilities – supports multi organizations and multi-sites with Niagara Supervisor
Supports real time monitoring of edge data
Supports up to 100 devices and 5000 points
Includes initial 18 months support/maintenance; for additional support please select options
Ships with Open NICs – works with any WorkBench connection. VYKON JACE 8000 features the standard unmodified open Tridium Niagara software allowing you to customize entirely for your requirements. No proprietary modifications.
Dihuni Part # DIH-JACE8100-1 (Bundle of VYKON Part # J-8000 Hardware, J-8100 Software and SMA-8100-1YR-INIT)
What's Included with this purchase?
JACE 8000 Hardware
Niagara 4 Framework Software with license for 100 Devices 5000 Points – all browser based Niagara programming tools for JACE configuration and application development are included (Note – WorkBench for technician's laptop/desktop is not included. Please select that option below if needed)
Device Drivers for BacNet, Modbus, LON, OBIX, PLC, OPC already included (for additional drivers, please contact us with your specific protocol requirements)
18 months of software maintenance SMA-8100-1YR-INIT (this is required by Tridium and product is not functional without this. Note: this is mostly sold separately by competitors; we have bundled to make it simple for you to purchase a fully functional system)
Product ships globally from the USA. After you order:
JACE hardware will ship to your address
You will get Niagara software license file by email
Note: Tridium is the manufacturer of the JACE hardware and developer of the Niagara Software as well. Tridium does not sell JACE 8000 or Niagara Software using its own brand. VYKON brand is owned by Tridium and all Tridium products in original shape (without any functional modifications) are marketed and sold as VYKON branded products. Additionally both Vykon and Tridium brands are owned by Honeywell.
Product Enquiry
Technical Specifications
VYKON JACE 8000 (J-8100) : Featuring Niagara 4 Open IoT Platform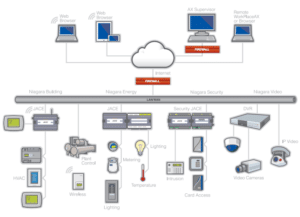 Efficient global design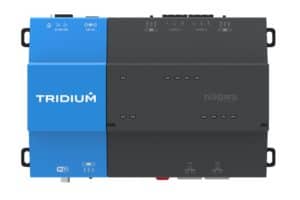 The new, modular design of the JACE 8000 controller makes it easy to install, integrate and deploy. Tool-less installation with expansion capability reduces installation complexity and improves flexibility. Systems integrators can focus on engineering solutions, not assembling components.
Wireless capability
Standard Wi-Fi offers enhanced wireless capability when interfacing with the next generation of wireless sensors and devices. The JACE 8000 controller also is configurable as an access point so that mobile phones and tablets can display information and advanced graphics. Expansion also is available when interfacing with other wireless fieldbuses seen in connected buildings.
Optimized for Niagara 4
The JACE 8000 controller leverages the exciting new features of Niagara 4. It adds to the enhanced user experience, maximizing Niagara 4's key advantages: pure Web interface based on HTML5 with HTML5 views, charting and data visualization, a common design language, better reporting, robust security and improved device management.
With simple configuration, tool-less installation, low-cost integration and high-powered performance, the JACE 8000 controller is a dramatic evolution in connecting and controlling devices worldwide.
Hardware Specifications
Agency Certifications
UL 916, CE EN 61326-1
FCC Part 15 Subpart B, Class B
FCC Part 15 Subpart C
C-UL listed to Canadian Standards Association (CSA) C22.2 No. 205-M1983 "Signal Equipment"
1999/5/EC R&TTE Directive
CCC
SRRC
RSS
ROHS
Environmental Specifications
Operating temperature: -20–60°C
Storage temperature: -40–85°C
Humidity: 5%–95% — Non condensing
Shipping & vibration: ASTM D4169, Assurance Level II
MTTF: 10 years+
Most Tridium/Vyon hardware products are typically in stock and can ship in 1-2 days. Tridium software licenses take 1-2 days to be processed/generated after which we email you the software license and download link (as applicable).
You can also request expediting without any fee below and we will try our best to meet your request.
For complete server systems, we recommend contacting us for latest price as component prices change everyday. For all products, please contact us for and any additional discount requests based on volume, educational institutions based etc. Also, if you would like us to price match/beat, please send us the competitor quote and we will respond asap. Currently price match program is applicable to the following:
Fully Assembled and Configured Servers
Tridium Smart Building Products
NVIDIA Tesla GPUs
Note – competitors must be authorized resellers to be considered for this program.
"Dihuni has the best competitive pricing in the market and great service. They shipped the Nvidia Tesla V100 32GB GPUs to us in an expedited time frame. These GPUs are crucial to our enterprise level very high volume video transcoding systems. Thanks again to the Dihuni team!"
We are pioneers in the Connected IoT industries and Smart Buildings is one of our main focus areas. Here are some of the reasons why you should consider us for Tridium products
Lowest price in the market – we work hard to keep our Tridium/VYKON prices best in the market. We also price match so let us know if you find a product cheaper somewhere
Dihuni was founded by former Tridium/VYKON/Honeywell executive who has led the development and launch of Niagara 4, JACE 8000 and all related products.
We are consultative. Tridium/VYKON products are extremely powerful but also can be complex to understand how to deploy and select products from the portfolio. We help you guide through your deployment scenarios and recommend the products you should buy
We are specialized in both hardware and software
We have made it extremely simple for you to buy Tridium products through our easy to use E-Commerce platform.
We work closely with Tridium/VYKON and Niagara community to keep up to date on Niagara technical happenings and also help Tridium with future product ideas coming through our customers.
We respond fast – whether its price or technical questions; we rope in the right contacts to answer your questions promptly
About Tridium/VYKON
Tridium is the manufacturer of the JACE hardware and developer of the esteemed Niagara Software. Tridium does not sell JACE 8000 or Niagara Software using its own brand. VYKON brand is owned by Tridium and all Tridium products in original shape (without any functional modifications) are marketed and sold as VYKON branded products. Additionally both Vykon and Tridium brands are owned by Honeywell.
"Tridium is the world's leading brand for BAS software and we use them in several commercial buildings. We regularly need to upgrade our niagara software and add JACE to our existing and new BMS projects. Dihuni has done a great job with a simple and intuitive buying system for Tridium products."
All products listed, sold and shipped are 100% new and factory packaged (not refurbished, open boxed or used). Standard and customized hardware products mostly ship direct from manufacturer's facilities after assembly and rigorous testing to ensure high quality and to reduce unnecessary shipping/handling. Software license keys are generated by software partners and delivered to your email addresses directly from the partner or through Dihuni.
Dihuni was formed to simplify Digital Transformation. The internet has changed everything – from software applications to compute, storage and networking hardware. At Dihuni, we believe every business is transforming to enable digital customer outcomes and our mission is to ensure we can enable you with the right hardware, software and services to make that happen. Believe us, no matter which application you are working on today, you are helping transform the world into a Digital place. Some of the reasons to trust your business to us :
World Class Partners

Dihuni partners with world class companies such as Dell, HPE, Lenovo, Supermicro, Intel, Microsoft, VMware and several other top Software and Hardware IT & IoT companies. We carefully select best-in-class technology and business partners and work with them on strategy, product roadmap and solutions development to ensure we not only provide you the best product but also help our partners enhance their offerings. With our deep rooted partnerships and relationships with product teams, we are able to escalate any product issue or provide new requirements based on your feedback directly to our partners.  Our partnerships offer you the best in the following areas :
Server, Storage and Networking Hardware

Cloud Services

Internet of Things (IoT)

Software Development – Onshore (US) and Offshore

Operating Systems

Consulting 

Federal Contracting
High Quality Manufacturing for Standard Products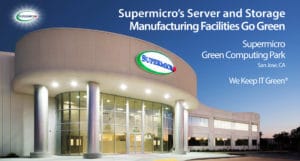 We leverage the manufacturing capabilities of our partners and work closely with them to customize your system. Instead of adding more complexity in shipping individual parts, integrating and testing it at facilities that require constant maintenance, we work closely with our OEM partners and use their expertise and operations so they can build a high quality system that is suitable for your exact application. By doing this, we are able to not only control manufacturing costs and pass on the savings to you but also deliver a system directly from our partner to you in any part of the world. At Dihuni, we ensure and select partners who adhere to rigorous design implementation, manufacturing standards and ISO standards to ensure that its products are produced with the highest quality and reliability. Our partners integrate only the best quality parts and components into their system boards, servers, and chassis. To ensure excellent performance even under extreme operating conditions, our products undergo rigorous environmental and intense computational testing. These quality efforts optimize system performance and minimize system downtime for you to have an extremely reliable system from Dihuni.
Focus on Solution, Not Just Hardware
We know you are looking for hardware as part of a solution that you are implementing. With our experience in software as well as real world IT implementation, we help you select the right product that fits your solution. There is huge complexity in implementing a successful solution regardless of whether you are a software developer wanting a fast developer machine or if you are involved in developing an efficient on-premise and cloud back-end infrastructure for your IT or Internet of Things (IoT) applications or setting up the right systems for data, analytics, Machine Learning, Artificial Intelligence (AI) and Digital Applications. We help you through your needs regardless of the size of your project and your budget. 
Experience Matters
Our leadership has over 20 years of experience in designing, developing, manufacturing and shipping servers and embedded/IoT systems in high volume. With direct experience with companies such as Dell, NEC, Supermicro, Honeywell, BSDi etc, we are experts in effective product management and will help you with every need you may have. We carefully select each product that we carry and understand the target applications for your systems. Utilizing our experience in software, we also provide Digital Transformation and Agile software development consulting services should you need help with any of your projects in IoT, IT etc.
We Really Believe in Customer Service
We believe and have implemented best practices in product design, development and more importantly customer service. This thinking is permeated throughout our company. We offer :
High Quality Products and Consultation on product positioning and suitability
Competitive Pricing
Fast response times
On-time Delivery
Completely customized systems and services including
Phone and Onsite Support including Manufacturer's Support
Marketing opportunity for your project and case studies
We appreciate your business! Please call us at 703-436-4721 or email us at digital@dihuni.com for any question or information. We respond promptly and you can contact us even during weekends.