Technical Specifications
Advanced Management with Optigo OneView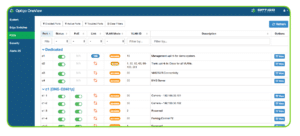 Centrally manage PoE use and distribution with real-time PoE budget (used/available) displayed on a per-switch basis and view PoE power consumption on a per-port basis. Optigo OneView also gives you full control of the PoE ports with options to enable, disable, or reset any port.
Keep track of the system's bandwidth with detailed port counters and real-time bandwidth/utilization calculations.
OneView lets you run all maintenance through a single interface. Simple and fast configuration, diagnostic reports, firmware upgrades or even switch resets — all at the touch of a button.
OneClick SecureTM ensure complete port security with instant MAC lock-down and disabling of all unused ports if an incursion is detected.
Designing Smart Buildings IoT Networks with Optigo Connect
A typical network consists of one Smart Aggregation Switch, several Optical Splitters and multiple Edge Switches. Optigo Networks offers several types of each of these devices, to help create the perfect solution for your application.