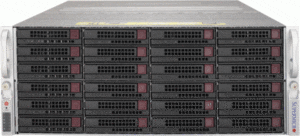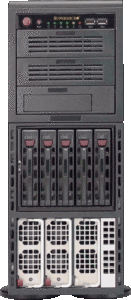 Our 4U rackmount and tower form-factor servers come in a broad range of configuration : from single socket fixed drive systems to dual and quad socket redundant systems, these are space saving servers designed for highest performance per rack space unit. Designed for optimal performance, the single and dual-processor SuperServers support Xeon® processor E5-2600 or E5-2600 v2 family in a high-density 4U form-factor. These SuperServers are ideal for video processing, database, file servers, e-mail servers, big data, IoT, in-memory analytics infrastructure etc.
How to Buy
Below is a matrix with single, dual and quad processor 4U servers. Please click on the product line that interests you and visit the Supermicro product pages for the full range of their 4U server line and contact us with the system that is of interest. We will price the system based on your configuration. After you place an oder with us, the systems will be built to your specific configuration and shipped to your specified address globally.
Or
Please let us know your general requirements and we will work with you to define a system that is suitable for your application. You can contact us at servers@dihuni.com with your general server requirements or for more information. You can also call us at the number on our Contact Us page.