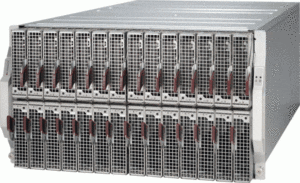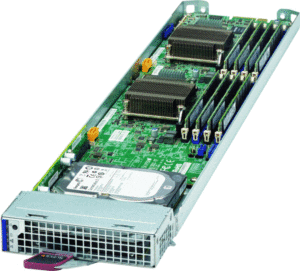 The Supermicro MicroBlade represents an entirely new type of computing platform. It is a powerful and flexible extreme-density 6U/3U all-in-one total system that features 28/14 hot-swappable MicroBlade Server nodes supporting 28/14 Newest Dual-Node Xeon UP systems with Intel E3-1200 v6/v5 family configurations with up to 2 SSDs/1 HDD per Node. The 6U/3U MicroBlade enclosure can incorporate up to 2 Chassis Management Modules, and up to 2 Switch Modules for efficient, high-bandwidth communications. It can incorporate up to 8 redundant (N+1 or N+N) 1600/2000W high-efficiency (95%/96%) power supplies with cooling fans. This innovative new generation architecture includes server, networking, storage, and unified remote management for Cloud Computing, Internet of Things (IoT), Big Data Analytics, Video Streaming, Content Delivery, Social Networking, Desktop Virtualization and Remote Workstation applications.
How to Buy
Below is a matrix with single and dual socket MicroBlade servers. Please click on the product line that interests you and visit the Supermicro product pages for the full range of their MicroBlade server line and contact us with the system that is of interest. We will price the system based on your configuration. After you place an oder with us, the systems will be built to your specific configuration and shipped to your specified address globally.
Or
Please let us know your general requirements and we will work with you to define a system that is suitable for your application. You can contact us at servers@dihuni.com with your general server requirements or for more information. You can also call us at the number on our Contact Us page.
Enclosure and MicroBlade Module Selection Matrix
Blade Server Modules
MicroBlade Module
Enclosure
CPU per Node
Memory per Node
HDD/SSD per Node
• MBI-6119G-T8HX
28/14-Blade
1 Xeon E3-1585 v5
32GB ECC DDR4-2133MHz SO-DIMMs
1x 2.5″ SATA3 SSD, 2x M.2 (PCI-E 3.0 x4)
• MBI-6219G-T8HX
28/14-Blade
1 Xeon E3-1585 v5
32GB ECC DDR4-2133MHz SO-DIMMs
1x 2.5″ SATA3 SSD, 2x M.2 (PCI-E 3.0 x4)
• MBI-6119G-T7LX
28/14-Blade
1 Xeon E3-1578L v5
32GB ECC DDR4-2133MHz SO-DIMMs
1x 2.5″ SATA3 SSD, 2x M.2 (PCI-E 3.0 x4)
• MBI-6219G-T7LX
28/14-Blade
1 Xeon E3-1578L v5
32GB ECC DDR4-2133MHz SO-DIMMs
1x 2.5″ SATA3 SSD, 2x M.2 (PCI-E 3.0 x4)
• MBI-6119G-C4
28/14-Blade
1 Xeon E3-1200 v6/v5
64GB ECC DDR4 2133MHz VLP UDIMM
4x 2.5″ SAS3 SSD or 2x 2.5″ HDD
• MBI-6119G-C2
28/14-Blade
1 Xeon E3-1200 v6/v5
64GB ECC DDR4 2133MHz VLP UDIMM
2x 2.5″ SAS3 HDDs
• MBI-6119G-T4
28/14-Blade
1 Xeon E3-1200 v6/v5
64GB ECC DDR4 2133MHz VLP UDIMM
4x 2.5″ SATA3 SSD or 2x 2.5″ HDD
• MBI-6219G-T
28/14-Blade
1 Xeon E3-1200 v6/v5
64GB ECC DDR4 2133MHz VLP UDIMM
2x 2.5″ SATA3 SSD or 1x 2.5″ HDD
• MBI-6118G-T81X
28/14-Blade
1 Xeon D-1581
128GB ECC DDR4 2133MHz VLP RDIMM
4x 2.5″ SATA3
(2x HDD/SSD
+ 2x SSD) and 1x SATADOM
• MBI-6218G-T81X
28/14-Blade
1 Xeon D-1581
128GB ECC DDR4 2133MHz VLP RDIMM
1x 2.5″ SATA3 HDD/SSD and 1x SATADOM
• MBI-6118G-T41X
28/14-Blade
1 Xeon D-1541
128GB ECC DDR4 2133MHz VLP RDIMM
4x 2.5″ SATA3
(2x HDD/SSD
+ 2x SSD) and 1x SATADOM
• MBI-6218G-T41X
28/14-Blade
1 Xeon D-1541
128GB ECC DDR4 2133MHz VLP RDIMM
1x 2.5″ SATA3 HDD/SSD and 1x SATADOM
• MBI-6118D-T2H
28/14-Blade
1 Xeon E3-1200 v3/v4 or 4th gen. Core i3
32GB ECC DDR3 1600MHz VLP URDIMM
2x 3.5″ SATA3 HDD/SSD
• MBI-6118D-T4H
28/14-Blade
1 Xeon E3-1200 v3/v4 or 4th gen. Core i3
32GB ECC DDR3 1600MHz VLP URDIMM
4x 2.5″ SATA3 HDD/SSD
• MBI-6118D-T2
28/14-Blade
1 Xeon E3-1200 v3 or 4th gen. Core i3
32GB ECC DDR3 1600MHz VLP URDIMM
2x 3.5″ SATA3 drives
• MBI-6118D-T4
28/14-Blade
1 Xeon E3-1200 v3 or 4th gen. Core i3
32GB ECC DDR3 1600MHz VLP URDIMM
4x 2.5″ SATA3 HDD/SSD
• MBI-6128R-T2X
28/14-Blade
2 Xeon E5-2600 v4/v3 (up to 18 cores)
256GB ECC DDR4-2400 VLP RDIMM
2x 2.5″ SATA3 HDD/SSD and
1x SATA DOM
• MBI-6128R-T2
28/14-Blade
2 Xeon E5-2600 v4/v3 (up to 18 cores)
256GB ECC DDR4-2400 VLP RDIMM
2x 2.5″ SATA3 HDD/SSD and
1x SATA DOM
• MBI-6418A-T7H
28/14-Blade
1 Avoton C2750 (8 cores)
32GB ECC DDR3 1600MHz SO-DIMM
1x 2.5″ SATA3 HDD/SSD and
1x SATA DOM
• MBI-6418A-T5H
28/14-Blade
1 Avoton C2550 (4 cores)
32GB ECC DDR3 1600MHz SO-DIMM
1x 2.5″ SATA3 HDD/SSD and
1x SATA DOM