Dihuni OEM Server and Storage Program for Digital Software Vendors
At Dihuni, we understand the unique requirements of your digital software. Whether you are running dedicated software to build a purpose built appliance or whether you are trying to host a bunch of virtual machines on a server to deliver end user value, we can take the headache out for you so you focus on your core business of developing software. If you are an Independent Software Vendor (ISV) developing applications that support digital transformation, this program is designed for you. We help ISVs that are involved in big data applications, Internet of Things (IoT), data center and security applications such as intrusion prevention, firewall, DNS and other infrastructure management applications.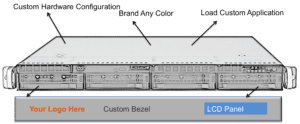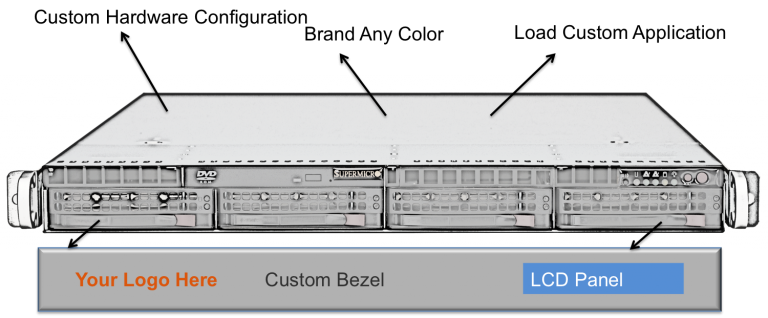 Right Sized Hardware
Delivering performance for your digital software requires you to have the right hardware configuration. Dihuni helps you standardize and optimize on server, storage and network configurations. Our deep partnerships with server companies such as Dell , Supermicro and TYAN help us deliver a completely custom solution for you. We not only specify and provide you with hardware but for unique requirements, we have the capability to custom design enclosure and even server boards for you to meet that unique application need.


OEM Branding
We offer a broad range of OEM branding options to you. For example, you can brand the front of your system with a custom painted metal bezel or we can develop a brand new plastic bezel for you. You could brand the whole chassis in your colors and with your logo if that is what your marketing department insists on. Additionally, we brand your packaging in your color, print and with you logo. When the appliance ships, it will be no different than if it was a product manufactured and branded at your facility.
Integration and Logistics
We partner and rely on world class high quality manufacturing and logistics of our global partners. Our partners altogether have millions of square foot of manufacturing space. Instead of developing our own assembly line , Dihuni leverages the automation and global capabilities of our partners. This allows us to focus on what's most important to you – deliver a high quality appliance designed, configured, tested and delivered on time. We can build your custom product and deliver the most efficient systems, servers and storage globally for your software applications.
Please contact as with your requirement. You can send an e-mail to oem@dihuni.com or use our contact page. We will contact you spontaneously and help you develop your OEM product.