Technical Specifications
Customer Data is Everywhere
Use everything at your disposal to determine your customer's needs and reactions. Regardless of the business you're in, you will need this. Companies fail when they don't understand their customers. In a digital world, customer touch points have broadened significantly and your B2B customers are also consumers on social media talking openly about the good or bad experience with your company, product or service offerings. Text Messages are everywhere; quintillions of data is produced everyday and we just need to be able to extract and analyze to extract meaningful insights.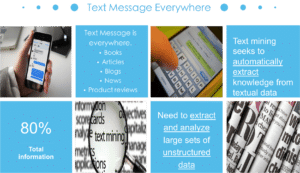 Sentiment Analysis /Emotional Artificial Intelligence for Digital Marketing
Sentiment analysis or Emotional AI is a natural language processing method that allows us to understand people's attitude through deep text analysis. Customer star ratings and comments on social media, online stores, surveys etc have  lot of useful information but are not useful unless we are able to extract meaningful and common sentiments and real attitude of customers towards products and brands. Sentiment is measured on a polar scale with negative value representing a negative sentiment and a positive value representing a positive sentiment.
To add to the complexity, customers do not always provide detailed feedback. Some reviews are short for example twitter feedback is in 140 characters and can pose challenges in making a decision on customer sentiment without knowing the context. It is important for machines to incorporate contextual understanding in order to make complete sense of human interactions.
At Dihuni, we apply the sentiment analysis method to provide you with clear insight into the positioning of your product and brand. We parse through huge amounts of data, store and process our algorithms to isolate positive and negative sentiments and present to you in a simple to understand Digital WordCloud.