On Feb 15th, in a blog by Antony Passemard, Google announced their intent to acquire Xively, the Internet of Things (IoT) arm of LogMeIn, Inc. For Cloud Service Providers (CSP), most of the focus has been in offering IT based services e.g. Infrastructure as a Service (IaaS) for instant access to computing infrastructure and lately Platform as a Service (PaaS) for developers to build applications. Some cloud vendors including Microsoft offer Software as a Service (SaaS) offerings such as Microsoft Office 365 through their Azure cloud platform which is consumed on a subscription basis. The IT cloud model was built upon an architecture that enabled interaction between cloud applications/platform services and the operating systems/applications/management of servers, desktops, laptops and mobile devices such as tablets and smartphones. With IoT, device management becomes extremely difficult as edge devices speak multiple different languages (protocols) and the number of devices, manufacturers, protocols are far more when you consider connecting billions of devices to the internet.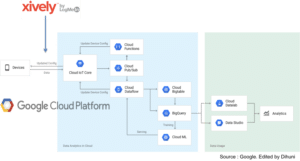 Above is an example of how Xively might fit in the Google IoT Core, part of Google Cloud Platform (GCP).  Xively will help Google in connecting and managing edge devices through its device management capabilities and support for edge messaging protocols, dashboard etc. Google offers the scalability and secure IaaS needed for machine/deep learning and big data analytics driven insights that are critical to deliver business value. Developers can build IoT applications and utilize Xively's device connectivity capabilities for an end-end IoT solution. Microsoft and Amazon also offer similar capabilities with Amazon Web Services (AWS) IoT Services and Microsoft Azure IoT Suite. All major players in IoT are developing an edge to cloud IoT platform and although it is yet to be seen how nicely the acquired technology integrates, this move by Google moves them a step closer to a more comprehensive IoT platform.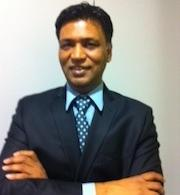 Pranay Prakash,
Chief Executive Officer, Dihuni

Pranay Prakash is CEO of Dihuni, a leading IoT Consulting and Infrastructure company. Prior to Dihuni, Pranay was in executive and senior management roles at Honeywell, Dell, NEC, Supermicro, NCS Technologies, BSDI etc.
Dihuni offers IoT Consulting services and infrastructure products and we are always anxious to learn. We would love to hear from you about your IoT project and experience. Please e-mail us at digital@dihuni.com or call us. This blog is part of our series related to Digital Transformation/IoT/AI etc that we publish on Dihuni.com to benefit our visitors. To contribute original articles that can help advance Digital Transformation, please contact us.