NVLink Performance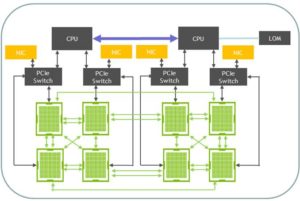 Systems with multiple GPUs and CPUs are becoming common in a variety of industries as developers rely on more parallelism in applications like AI computing. These include 4-GPU and 8-GPU system configurations using PCIe system interconnect to solve very large, complex problems. But PCIe bandwidth is increasingly becoming the bottleneck at the multi-GPU system level, driving the need for a faster and more scalable multiprocessor interconnect. NVIDIA® NVLink™ technology addresses this interconnect issue by providing higher bandwidth, more links, and improved scalability for multi-GPU and multi-GPU/CPU system configurations. A single NVIDIA Tesla® V100 GPU supports up to six NVLink connections and total bandwidth of 300 GB/sec—10X the bandwidth of PCIe Gen 3.
Supermicro Servers Featuring Intel E5-2600 v4 
Xeon®

Processors

Built on 14 nm process technology, the Intel® Xeon® processor E5-2600 v4 family offers up to 22 cores/44 threads per socket and 55 MB last-level cache (LLC) per socket for increased performance, as well as Intel® Transactional Synchronization Extensions (Intel® TSX) for increased parallel workload performance. You can dynamically manage shared resources efficiently and increase resource utilization with Intel® Resource Director Technology (Intel® RDT) offering cache monitoring and allocation technology, code and data prioritization, and memory bandwidth monitoring. Accelerated cryptographic performance enables encrypted data to move fast over secure connections, plus improved security keys help safeguard network access and deepen platform protection.
"Supermicro's total Infrastructure solutions maximize performance, density and efficiency with architecture innovations optimized for the latest Intel Xeon processor technology, high performance NVMe, and SIOM flexible networking up to 100G. Our expanding range of server and storage platforms including the new Simply Double SuperStorage, FatTwin, TwinPro, Ultra, MicroCloud, MicroBlade and SuperBlade provide the ultimate range of complete infrastructure building blocks."  

Charles Liang, President and CEO of Supermicro
Server Systems Management
Supermicro Server Manager (SSM) provides capabilities to monitor the health of server components including memory, hard drives and RAID controllers. It enables the datacenter administrator to monitor and manage power usage across all Supermicro servers allowing users to maximize their CPU payload while mitigating the risk of tripped circuit. Firmware upgrades on Supermicro servers became easier now with a couple of clicks. Administrators can now mount an ISO image on multiple servers and reboot the servers with those images. The tool also provides pre-defined reports and many more features that will make managing Supermicro servers simpler. Download the SSM_brochure for more info or download Supermicro SuperDoctor® device monitoring and management software.
Technical Specifications
SYS-4028GR-TVRT
SuperServer 4028GR-TVRT (Black)
CPU
Intel® Xeon® processor E5-2600 v4†/ v3 family (up to 145W TDP) *; Intel® Xeon® processor E5-2600; /
v3 family(up to 145W TDP); Dual Socket R3 (LGA 2011); Dual Socket R3 (LGA 2011)

2 x Intel® Xeon® processor E5-2640V4 2.4GHz Installed

Cores / Cache
Up to 22 Cores† / Up to 55MB† Cache
System Bus
QPI up to 9.6 GT/s

8 Tesla V100 32GB SXM2 GPUs Installed

Up to 300GB/s GPU-to-GPU NVLINK; Up to 300GB/s GPU-to-GPU NVLINK

Memory Capacity
24x 288-pin DDR4 DIMM slots; 24x 288-pin DDR4 DIMM slots; Up to 3TB† ECC 3DS LRDIMM, 2TB ECC RDIMM; Up to 3TB; ECC 3DS LRDIMM, 2TB ECC RDIMM

256GB DDR4-2400 Memory Installed

Memory Type
2400†/2133/1866/1600MHz ECC DDR4 SDRAM 72-bit
DIMM Sizes
RDIMM: 32GB, 16GB, 8GB, 4GB; LRDIMM: 64GB, 32GB; 3DS LRDIMM: 128GB
Memory Voltage
1.2 V; 1.2 V
Error Detection
Corrects single-bit errors
Chipset
Intel® C612 chipset; Intel® C612 chipset
SATA
SATA3 (6Gbps) with RAID 0, 1, 5, 10
IPMI
Support for Intelligent Platform Management Interface v.2.0; IPMI 2.0 with virtual media over LAN and KVM-over-LAN support; ASPEED AST2400 BMC
Network Controllers
Dual Port 10GbE with Intel X540 Ethernet Controller; Dual Port 10GbE with Intel X540 Ethernet Controller; Virtual Machine Device Queues reduce I/O overhead; Virtual Machine Device Queues reduce I/O overhead; Supports 10GBASE-T, 100BASE-TX, and 1000BASE-T, RJ45 output; Supports 10GBASE-T, 100BASE-TX, and 1000BASE-T, RJ45 output
Graphics
ASPEED AST2400 BMC
SATA
10 SATA3 (6Gbps) ports; 10 SATA3 (6Gbps) ports
LAN
2 RJ45 10GBase-T LAN ports; 1 RJ45 Dedicated IPMI LAN port
USB
2 USB 3.0 ports
Video
1 VGA Connector; 1 VGA Connector
Serial Port
1 Serial header
BIOS Type
128Mb SPI Flash EEPROM with AMI® BIOS; 128Mb SPI Flash EEPROM with AMI® BIOS
BIOS Features
Plug and Play (PnP); APM 1.2; DMI 2.3; PCI 2.3; ACPI 1.0 / 2.0 / 3.0; USB Keyboard support; SMBIOS 2.7.1; UEFI
Form Factor
4U Rackmountable; Rackmount Kit (MCP-290-00057-0N)
Model
CSE-R422BG
Height
7.0″ (178mm)
Width
17.6″ (447mm)
Depth
31.7″ (805mm)
Net Weight: 80 lbs (36.2 kg); Gross Weight: 135 lbs (61.2 kg)
Available Colors
Black
Hot-swap
16 Hot-swap 2.5″ SATA/SAS drive bays

1x960GB SSD Installed

PCI-Express
4 PCI-E 3.0 x16 (low-profile) slots; 2 PCI-E 3.0 x8 slots
Fans
8x 92mm Cooling Fans
Shrouds
1 Air Shroud (MCP-310-41808-0B)
2200W Redundant Titanium Level Power Supplies with PMBus
Total Output Power
1200W/1800W/1980W/2090W/2200W
(UL/cUL only)
Dimension
(W x H x L)
106.5 x 82.4 x 203.5 mm
Input
1200W: 100-127 Vac / 14-11 A / 50-60 Hz; 1800W: 200-220 Vac / 10-9.5 A / 50-60 Hz; 1980W: 220-230 Vac / 10-9.5 A / 50-60 Hz; 2090W: 230-240 Vac / 10-9.8 A / 50-60 Hz; 2200W: 220-240 Vac / 12-11 A / 50-60 Hz (UL/cUL only); 2090W: 180-220 Vac / 14-11 A / 50-60 Hz (UL/cUL only); 2090W: 230-240 Vdc / 10-9.8 A (CCC only)
+12V
Max: 100A / Min: 0A (1200W); Max: 150A / Min: 0A (1800W); Max: 165A / Min: 0A (1980W); Max: 174.17A / Min: 0A (2090W); Max: 183.3A / Min: 0A (2200W); Max: 174.17A / Min: 0A (2090W)
12Vsb
Max: 2A / Min: 0A
Output Type
Gold Finger (connector on M/P)
Certification
UL/cUL/CB/BSMI/CE/CCC; Titanium Level
CPU
Monitors for CPU Cores, +1.2V, 1.5V, +3.3V, +12V, (+3V, 1.0V, 1.2V, 1.8V, 1.1V) Standby, VBAT, Memory, Chipset Voltages.; 4-Phase-switching voltage regulator with auto-sense from 0.6V-1.35V
FAN
4-pin fan headers with tachometer status monitoring; Low noise fan speed control mode
Temperature
Monitoring for CPU and system environment; Thermal Control for 8 fan connectors
Other Features
Chassis intrusion detection
RoHS
RoHS Compliant
Environmental Spec.
Operating Temperature:
10°C to 35°C (50°F to 95°F); Non-operating Temperature:
-40°C to 70°C (-40°F to 158°F); Operating Relative Humidity:
8% to 90% (non-condensing); Non-operating Relative Humidity:
5% to 95% (non-condensing)