The Supermicro E300-8D and Intel Xeon D processor continue to be hugely popular with customers as they deploy these machines as virtualization hosts, home lab servers or as VPN appliances. The E300-8D server features Intel® Xeon® processor D which delivers the performance and advanced intelligence of Intel's server-class Xeon® processors in a System-on-a-Chip (SOC) form factor.

Virtualization Host in Data Center and at Home
As one of the smallest servers featuring Xeon processors, the E300-8D is designed for virtualization and supports Intel Virtualization Technology natively.which allows one server platform to run multiple operating systems and applications in independent partitions, creating multiple 'Virtual Machines (VM)' on one physical computer.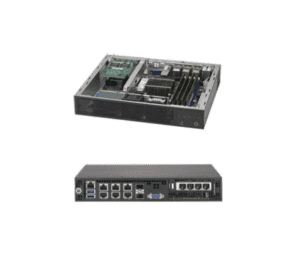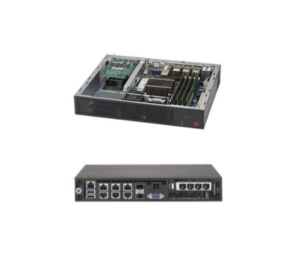 We find E300-8D great for virtualization due to several reasons. The system supports up to 128GB of DDR4 ECC RDIMM or 64GB of DDR4 ECC/Non-ECC UDIMM with speeds up to 2400MHz to allow ample memory for each Virtual Machine (VM). For multiple networked E300-8D and other Intel servers, Intel's Virtualization Technology supports Direct I/O VT-d by reporting the I/O device assignments to the VMM (Virtual Machine Monitor) through the DMAR ACPI Tables. This feature offers fully-protected I/O resource sharing across Intel platforms, providing greater reliability, security and availability in networking and data sharing. The system supports SR-IOV single-root virtualization which allows a device, such as a network adapter, to separate access to its resources among various PCIe hardware functions  thus ensuring enough bandwidth/performance for each VM. The E300-8D also comes with rackmount kit option for customers to be able to deploy in data centers. However software developers love to use this system at home for virtualizing applications prior to pushing to production environments.
VPN and Remote IoT Edge Deployments
The E300-8D Xeon D servers are also suitable for deployments in environments outside of the traditional data center. Customers who have ordered and those who have in pipeline are implementing use cases for remote VPN applications where larger rackmount systems are not useful and are more expensive than embedded compact systems in set-top box or mini 1U form-factor. With two 10G SFP+  and 6 GbE network ports, the E300-8D offers very high flexibility in acting as a data aggregator for multiple IT and Internet of Things (IoT) devices connected to the system. For IoT, the highly dense form-factor is very convenient for non-IT locations and is great for local data analytics. Integrated Intel® QuickAssist™ Technology (Intel® QAT) increases the amount of securely processed and compressed data at the network edge. Additionally these servers act as great firewall systems and network security appliance.
VMware Support
Supermicro has qualified the X10SDV-TP8F board in the E300-8D for VMware ESXi 5.5 U2, 6.0, 6.0U1a and 6.0U2
More details and pricing on the E300-8D server can be found at :
SuperServer E300-8D Xeon D-1518 Mini 1U SoC 128GB DDR4 2x10G SFP+ 6x1GbE 1xIPMI Embedded IoT Gateway, Web Network Security Appliance Server
Other popular Xeon D servers in our e-commerce store:
Supermicro SuperServer E200-8D Xeon D-1528 Mini 1U SoC 128GB DDR4 2x10GbE 2x1GbE 1xIPMI Embedded IoT Gateway, Web Network Security Appliance Server
Supermicro 5028D-TN4T Xeon D-1541 MiniTower SoC 128GB 2x10G 2xGbE 4×3.5 2×2.5 SRIOV Embedded IoT Virtualization Network Security NAS Appliance Server
Supermicro 5018D-FN4T Xeon D-1541 Front I/O Mini 1U SoC 128GB 2×3.5/4×2.5 SATA 2x10GbE 2x1GbE 1xIPMI Embedded IoT Gateway NW Security Appliance Server
At Dihuni, we carry an extensive line of embedded products and we will continue to add cool products for Digital applications. These servers can be purchased directly online or if you need help, you can e-mail us at digital@dihuni.com . You can also call us at the number on our Contact Us page.