Dell Embedded Systems Featuring Intel Atom E3800 Processors
The Intel Atom processor E3800 product family is the first system-on-chip (SoC) family designed for intelligent systems, delivering outstanding compute, graphical and media performance while operating in an extended range of thermal conditions. Highlights include high I/O connectivity, integrated memory controller, virtualization, Error Correcting Code (ECC), and built-in security capabilities within a thermal design power (TDP) range of 3W to 10W. This product family is ideal for efficient imaging workflows, digital signage with secure content delivery, visually appealing interactive clients (interactive kiosks, intelligent vending, ATM and point-of-sale (POS) terminals), portable medical devices, industrial control systems, and in-vehicle infotainment (IVI) systems. These SoCs, based on the Silvermont microarchitecture, deliver numerous enhancements over previous-generation Intel Atom processor families. Utilizing Intel's industry leading 22nm process technology with 3-D Tri-Gate transistors, this new microarchitecture features significant improvements in computational performance and energy efficiency, along with a new out-of-order execution engine for superior compute performance, outstanding power management capabilities, and enhanced security. Intel Virtualization Technology2 increases virtualization performance by allowing the operating system more direct access to the hardware.
"As the number of connected devices becomes more ubiquitous, we know that intelligent computing at the edge of the network is critical. The IoT continues to enhance customer experience, drive business growth and improve lives, making it central to organizations' digital transformation strategies. The small and mighty 3000 Series opens up new opportunities for our customers and partners to get smarter with their data and make big things happen."  

Andy Rhodes, Vice President and General Manager, Internet of Things, Dell
Embedded Systems Management
Dell Edge devices come with an IoT version of the Dell Cloud Client Manager, called Edge Device Manager. EDM helps to deploy, group, and securely manage the sensors and devices in the IoT network, regardless of their physical location. Our IoT devices can be configured with Ubuntu Core 16 or Microsoft® Windows® 10 IoT Enterprise LTSB 2016 (only with 32 GB eMMC). Please contact us for more information.
Technical Specifications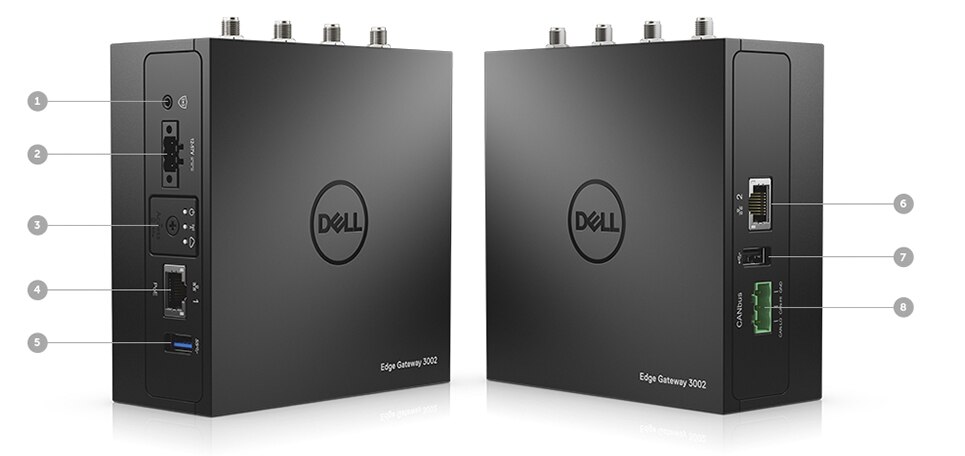 Ports & Slots
1. External intrusion switch input | 2. DC In/Power connector with ignition/wake pin | 3. Status LEDs plus card slots for Micro-SIM and Micro-SD | 4. Fast Ethernet (RJ-45) with PoE | 5. USB 3.0 port | 6. Fast Ethernet (RJ-45) with PoE | 7. USB 2.0 | 8. CANbus
Mfr Part #
Edge Gateway 3002
CPU
Intel Atom E3805 1.33 GHz / 1 MB
I/O
2 x 10/100 Fast Ethernet (RJ-45). Main port supports PoE (15.4W) Wireless PAN: Bluetooth Low Energy and integrated zigbee/802.15.4 module for mesh networking. CANbus / Controller Area Network (CAN2.0 A/B/FD) 1Mbps (CAN2.0), 5Mbps (CAN-FD)

USB: 1x USB 2.0, 1x USB 3.0 Integrated MEMS: Accelerometer, Pressure, Temperature and Humidity Integrated GPS Wireless LAN: 2.4GHz, 802.11b/g/n/Bluetooth Low Energy 4.0 Integrated zigbee module on 3002 model; optional zigbee on 3001 and 3003 models WWAN/Cellular: 3G or 4G LTE for select countries, US/Canada 4G LTE with AT&T or Verizon (WWAN card is factory installed only) Antenna ports for: Wi-Fi/BLE/GPS, 3G or 4G (zigbee antenna port on 3002 model only)

Memory
2 GB, DDR3L – 1066 MHz
Dimensions
125 mm wide x 125 mm high x 51 mm deep (4.9 x 4.9 x 2 inches).
Weight
1 kg +/- 0.02 kg (2.2lbs +/- 0.04lbs)
Form Factor
Fanless and headless (video port on 3003 only). Mounting optimized for 75x75mm VESA, wall (standard) mounting and DIN-rail mounting. Additional mounting options include perpendicular DIN-rail mount, quickrelease DIN-rail mount, and cable management control bars for standard mounting
Environmentals
Ruggedized (shock and vibration resistant) for challenging mobile and manufacturing environments. IP50 rating. Operating Temperature: -30C (-22F) to 70C (158F) – true still air environment, no forced air or airflow required (ie. inside a sealed enclosure) Storage Temperature: -40C (0% RH) to 70C (20% RH) Relative Humidity: Operating: 10% to 95% (non-condensing), Non-operating 5% to 95% (non-condensing) with maximum humidity gradation of 15% per hour); up to 70C @ 80% RH Shock and Vibration: Operational and Non-Operational Shock – all axis up to 160G; Operational and NonOperational Vibration – all axis up to 1.54 Grms, 1 hr/axis; Long Life Vibration – all axis up to 0.79Grms / 5hrs
Power Input
DC-IN or Power over Ethernet (PoE). System power protection. Enables low-power use (ignition wake, wake on LAN). • DC-IN accepts 12/24 V car power system (12V-57V wide DC input); supports transient low-voltage states (battery crank) ≥6 VDC. Ignition input supports power on/standby/hibernate at 9-32 VDC with a 5-sec delay. Wake up events: alarm, LAN, USB, ignition or direct ignition. • PoE is 10/100 Mbps and connects via 8-pin RJ45 port; features full-controller compliance with IEEE 802.3.af standard for maximum 15.4 W, with power up to 48 V over existing Ethernet infrastructure, no modifications required. Standard IEEE 802.3 Ethernet interface provided for 100BASE-TX and 10BASE-T applications (802.3, 802.3u, and 802.3ab, 802.3x) 9014 bytes jumbo frame support. PoE supports wake on LAN.
Storage/Drives
Industrial-grade Micro-SD card: 8GB / 16GB / 32 GB / 64 GB (Contact Dihuni OEM Sales for larger options.) Embedded multi-media controller (eMMC): 8GB standard / 32GB option with WWAN.
Operating System
Ubuntu Core 16 or Microsoft® Windows® 10 IoT Enterprise LTSB 2016 (only with 32 GB eMMC).
Device Level Security
Trusted Platform Module (TPM) 2.0; Secure Boot, BIOS password and I/O port disablement. Intrusion switch connector.
Manageability
Dell Edge Device Manager (EDM) is a cloud-based manageability suite, sold separately. EDM supports Dell IoT products for both Windows and Linux operating systems.
3000 Series Accessories
Optional accessories include flexible mounting options; pre-certified Wi-fi, GPS, and WWAN antennas (zigbee antenna on 3002); Phoenix connectors for serial, CANBus and power; industrial uSD storage options up to 64GB
Warranty
Commercial services vary. One-year limited hardware warranty with mail-in service, with optional extension up to 5 years; optional ProSupport with Advanced Exchange2 after remote diagnosis, contracts up to 5 years. Configuration and deployment services and custom warranties available.
IoT Services
Custom configuration service (BIOS, your software image, etc.) available. Via our curated IoT solution partners: IoT advisory consulting, configuration and applications development services, etc.
OEM Ready
OEM-Ready version available: From bezel to BIOS to packaging, your Edge Gateways can look and feel as if they were designed and built by you. Inquire about customized OS, memory, storage options. For more information, visit www.dell.com/oem